What is Deficit Spending?
Deficit spending is a situation in which more resources are utilized to make purchases than is received through normal revenue generating mechanisms. Essentially, the entity is operating at a budget deficit and is not generating enough resources on its own to meet the approved operating budget. When this happens, expenses are covered through the use of credit accounts and deferred payment plans that allow the entity to purchase now and pay later.
While deficit spending can take place in any environment from the home to the corporation, discussions about deficit spending usually focus on a government operation. It is not unusual for governments to function with a deficit. When the taxes collected are not sufficient to meet the line items approved in an annual budget, the difference is usually met by purchasing items using funds borrowed to cover the difference. This means the government is operating at a deficit.
However, governments do not always operate in a negative budget situation. From time to time, a government may actually enjoy a period when revenue from taxes and other investments may exceed the funds needed to cover the line items in the current budget. When that is the case, the government is said to be operating with a budget surplus. Often, the surplus is used to make internal improvements that are not covered by the budget, or the surplus is placed in interest bearing accounts so that the resources can be used to cover a budget deficit in the future.
While deficit spending is commonplace, it normally is not a sound economic practice to engage in this type of spending over a long period of time. Because deficit spending often involves borrowing money and paying back both the principle and accrued interest, it is possible to create a massive amount of debt in a short period of time. Many governments seek to manage deficit spending so that the focus is on maintaining services and operations that are considered essential to the well being of its citizens, while cutting back on less essential programs and services.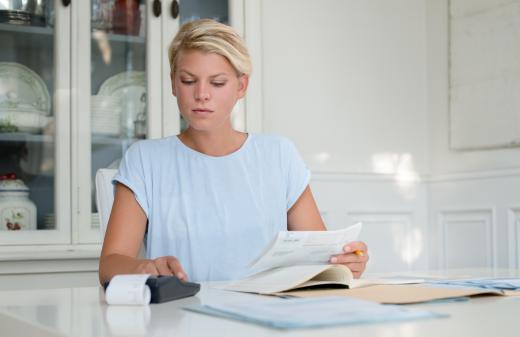 Businesses that attempt to engage in deficit spending over the long term are rarely successful in reversing the downward trend and are often bought out by other businesses or fall into bankruptcy. In like manner, households that attempt to operate using deficit spending in order to stay afloat for more than a short period of time often find the process leads to financial ruin and the liquidation of any valuable assets in order to pay off the outstanding debt.
AS FEATURED ON:
AS FEATURED ON:

By: Rido

Families may use deficit spending to stick to their household budget in the short term, but this can lead to stress and financial ruin.

By: Sergey Nivens

Credit cards are a tool used to conduct deficit spending.

By: diego cervo

Many people create budgets in order to curtail excessive deficit spending.