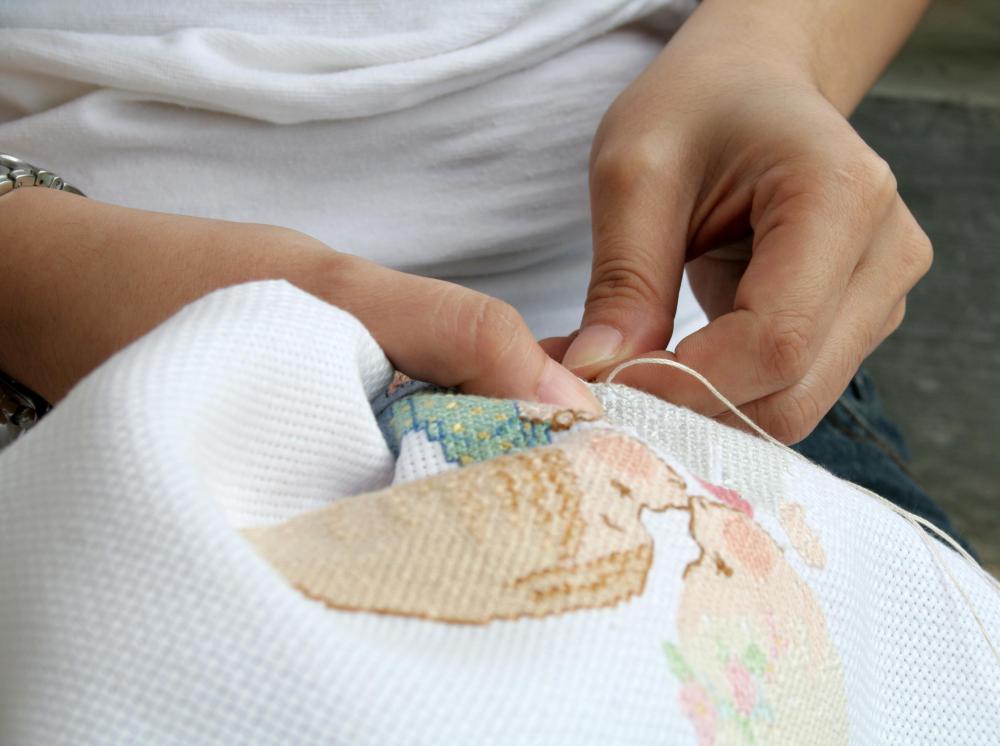 Cross stitching is a form of decorative embroidery. Designs are composed of many x-shaped stitches, much as digital images are composed of many square pixels. There are two primary forms of this craft: stamped and counted cross stitch. Stamped versions follow patterns that are printed directly onto fabric; counted cross stitching follows a separate pattern design and typically uses a a special woven fabric called Aida cloth.
Cross stitching is the simplest form of embroidery because designs are created by combining multiple x-shaped stitches. The counted type is typically easier than the stamped kind because Aida cloth automatically standardizes the stitch size.
In stamped cross stitch, the embroidery pattern is printed directly onto the fabric. The dye usually disappears after the first wash, so it's important not to wash the item until the entire design is finished. Different colored x shapes represent different colored threads. Stamped cross stitch is the most common form since most embroidered items, such as pillows, bibs, and tablecloths, are not made of Aida cloth.
Counted cross stitch patterns are typically printed onto a grid on a sheet of paper or in an electronic document. Different icons, such as clovers or blue circles, represent different thread colors. The printed guide can be followed by stitching x shapes into the grid-like Aida cloth. The term "counted" comes into play because, unlike a stamped pattern, one must count out the correct position and number of stitches.
Most embroidery floss is actually six strands of thread woven together into one strand. This is typically too thick for cross stitching, as the thread thickness may obscure the x-shaped stitches and make it difficult to tie off stitches in the back of the fabric. Pattern directions typically specify thread thickness, such as three strands. The specified number of strands from the floss can be isolated and gently separated. To create visual depth, certain parts of the pattern may use more strands than others.
All x-shaped stitches should be done in the same direction. For example, if the x is shaped by pulling thread through from the bottom-left across to the upper-right part, making a forward slash, and then pulled from the bottom-right corner across to the upper-left corner, all x's should be formed this way. For a row of stitches of the same color, all of the forward slashes can be completed first, then the x can be shaped by reversing direction to form the other slashes.
By: Lorelyn Medina

Multiple x-shaped stitches are combined to form cross stitching designs.

By: Andreja Donko

Embroidery floss must be separated for cross stitching.