What is Cross Stitch Thread? (with pictures)
Cross stitch thread, often called cross stitch floss, is a type of thread made specifically for cross stitching, which is a type of hand-sewing similar to embroidery. Cross stitch thread is available in a wide range of materials, including cotton, rayon and silk. Mercerized cotton is likely the most popular type of thread for cross stitching; this type of thread is appreciated for its luster and added strength, both of which are byproducts of the processing of the fiber. Most people choose to cut thread into 18-inch (45.7-cm) increments, which is a good working length that helps avoid tangling. Cross stitch thread is available in pre-cut lengths as well as hanks, which are looped bundles and can range in size depending on material and manufacturer.
There are many colors and shades of cross stitch thread, from white to black and everything in between. Color names and numbers are unique to each manufacturer, although it is possible to match colors between makers in some cases. In addition to single colors, cross stitch thread also comes in hand-dyed varieties, as well as metallic and multi-color variations. The wide range of available colors and materials makes it possible for people to find just the right floss for an intended project.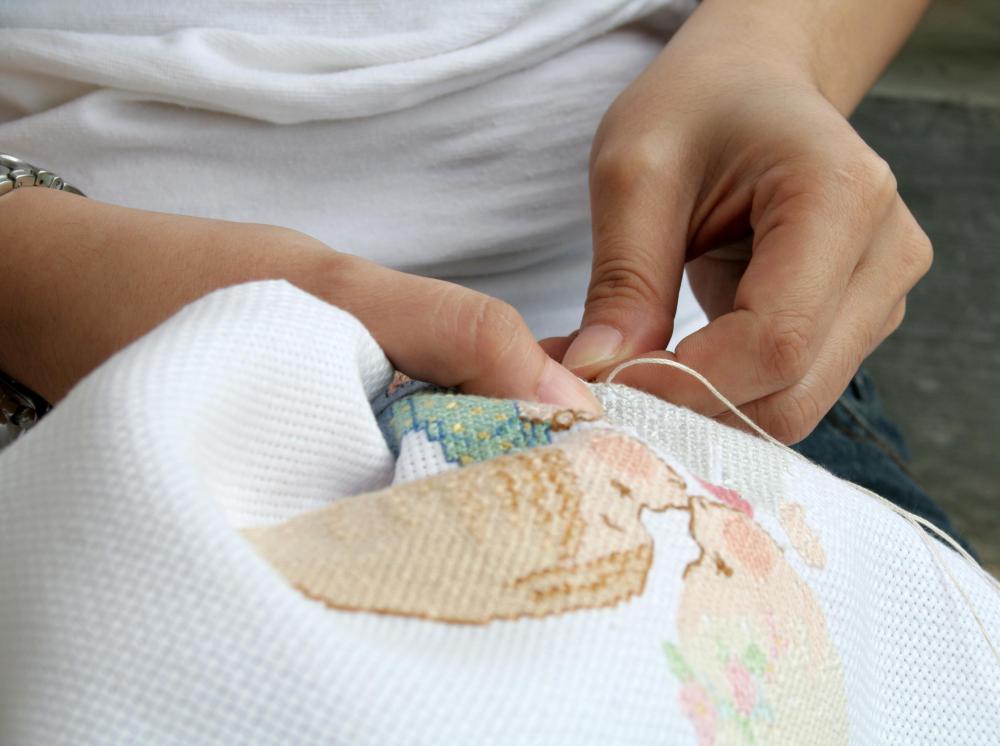 Cross stitch thread is similar to other types of craft thread, such as needlepoint thread and embroidery thread, in that it is intended to be divided before use. The individual strands are not twisted tightly together, allowing them to be separated easily. A typical skein of mercerized cotton cross stitch thread comes with six strands, but rayon often has only four threads. Most projects call for only two strands of cross stitch yarn for regular stitching, and a single strand for back-stitching. The number of required threads can vary depending on project, thread and type of fabric.
Cross stitching is a form of handwork in which X-shaped stitches are formed onto a specific type of fabric that is made so that it is easy to count stitches. This type of handwork, which has been done for centuries, is often referred to as counted cross stitch. Examples of cross stitch fabric include Aida cloth and Hardanger fabric. Stitches are laid out in a design or pattern, and the stitches are formed in a way that duplicates the intended image on the fabric.
Mercerized cotton is popular for cross stitching due to its shine and strength.

Cross stitch features an intersecting stitch that forms an "X" or cross pattern.

Rayon and silk are common cross stitch threads.

Cross stitch floss is available in a wide variety of colors.