What is Cornbread Dressing?
Both holiday staples, stuffing and dressing have their origins in the Middle Ages, when cooks stuffed a fowl's body cavity with a mixture of meat and bread. One assumes this is because it helped extend the meal and required only one hearth fire to cook it.
The dish evolved over the years and came to America with the first settlers. As the Southeastern U.S. began to be more populated and cornbread rose to prominence there, that quick bread became the basis of stuffing in that region. As time went on, cooks discovered the stuffing actually cooked more evenly and tasted better when baked in a separate pan, and not inside the turkey or goose. Thus, cornbread dressing was born.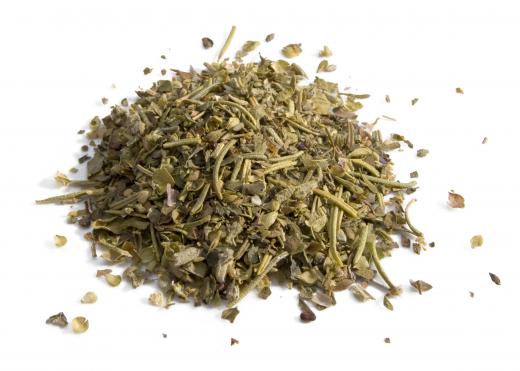 Every Southern family has a recipe, or two, or three, for cornbread dressing. Some versions call for rice, some for sausage or oysters, and some for chicken, making that ever-popular church potluck dish, chicken and dressing. Dressing is as varied as the cooks who make it, and most Southerners prefer their mama's cornbread dressing to anyone else's.
Cornbread dressing starts with, of course, a pan of cornbread. This cornbread should be baked using at least four eggs, rather than the two normally used. This makes for a higher-rising pone, and higher yield. Most cooks also include a few slices of white bread or leftover biscuits, which help bind the mixture.
Chicken or turkey broth (about 1 cup) is then added to the bread mixture and it is set aside. The process of sautéing chopped onions and celery together is recently popular, but this does help develop their flavors, and guards against biting into a large piece of raw onion in the cooked dressing. Fresh chopped herbs such as sage and thyme may be added, although their dried counterparts are also acceptable, along with poultry seasoning. Another recent, but welcome addition, is one or two cans of cream of chicken soup. This helps make the dressing creamy and helps it "set" nicely. The soup is added to the onion mixture, along with a can of water, and stirred until it bubbles.
The soup mixture and more broth are added to the cornbread mixture and stirred in until fully incorporated. At that point, the cook begins the real process of seasoning the dressing, and there are no right or wrong answers. It all depends on the cook and what the family likes. Some good add-ins include salt, black pepper, a dash of cayenne or hot sauce, garlic, marjoram, basil, celery seed, savory, more sage and/or thyme, if necessary, and anything else the family prefers. Some cooks add chopped hardboiled eggs to their dressing.
When the dressing tastes "right," two eggs are broken into the mixture and stirred in. The cornbread dressing is then poured into pans and cooked at 350 degrees Fahrenheit (175 degrees Celsius) until golden brown.
Cornbread dressing is an obviously rich and calorie-laden dish, which is why it is generally reserved for holidays or other special occasions. However, most families look forward eagerly to the moment when the dressing comes out of the oven and is ready to be served. Some Southerners say the cornbread dressing, in fact, is the best part of the turkey.
AS FEATURED ON:
AS FEATURED ON:

Dried marjoram, which is often included in cornbread dressing.

By: tuja66

An egg, which is used to make cornbread dressing.

By: Natika

Onions are often chopped and sauteed with celery for cornbread dressing.

By: travis manley

Celery seed is commonly used to season cornbread dressing.

By: Brent Hofacker

Cornbread dressing is a typical Thanksgiving side dish in the American South.

By: jam4travel

Cornbread is the basis for cornbread dressing.