What Is Conveyor Belt Sushi?
The kind of Japanese cuisine that people in English speaking countries refer to as conveyor belt sushi goes by many other names; it is essentially a name for small plates of sushi that reach customers by means of a conveyor belt, rotating tray, or other mechanized setup. This kind of sushi goes by many other names, including sushi go round, revolving sushi, or sushi train. All of these designations refer to a style of sushi presentation where customers make choices about desired dishes by physically taking them from a moving plate or tray. In Japan, this type of food is sometimes called kaiten-zushi.
Conveyor belt sushi can include many different types of sushi or sashimi. Many conventional types of sushi feature cuts of raw fish, from specialty fishes like salmon and tuna, to whitefish and other types of fish that may be exclusive to certain areas of the world. In general, sushi has spread from its places of origin to reach a contemporary Western audience, and many people around the world are familiar with different types of sushi pieces, as well as sushi rolls, where a single roll of stuffed rice is cut into many smaller pieces to be served.
In addition to fish, those who are familiar with conveyor belt sushi or any other presentation for the sushi dish know about some of the other common elements in this type of food. Along with the conventional rice and seaweed covering, sushi restaurants often put elements like caviar or fish roe, crab meat, or squid into sushi pieces or roles. There may also be vegetable elements included; some of the most common ones are cucumber and avocado, as well as raw carrot.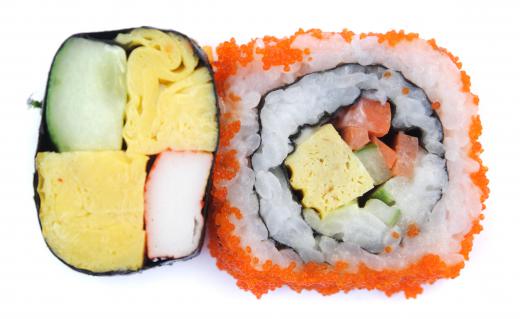 Many sushi restaurants also offer a range of traditional condiments for sushi. These are often served on the side. In restaurants that offer conveyor belt sushi, the condiments may need to be presented separately. These condiments include ginger and soy sauce, as well as a bright green hot paste called wasabi.
Some conveyor belt sushi restaurants do provide for special orders. Customers can choose what is coming on the conveyor belt or mechanized plate, or they can put in a special order to the kitchen for the types of sushi that they want. In today's contemporary conveyor belt sushi restaurants, managers need to know about how to keep their products fresh to comply with food safety rules in the country where they operate. Some of the most highly technological sushi restaurants actually use new geographic information technology called RFID chips or tags to track which plates of sushi have been rotating too long, and must be thrown away.


Nigiri sushi assortment.

By: BlueOrange Studio

Two futomaki rolls.

By: creative soul

Hosomaki rolls underneath an uramaki roll.

By: nalineimages

Some sushi has crab in it.

By: Stanislav Komogorov

Most sushi restaurants will offer wasabi, soy sauce, and pickled ginger along with their sushi.

By: serkucher

The Boston roll is a well-known type of sushi roll served in most sushi restaurants.