What Is Coconut Milk Curry?
Coconut milk curry is a dish made with coconut milk, curry paste or powder, and a variety of vegetables. Different combinations of vegetables are used depending on the recipe, but ones include onions, bell peppers, green beans, carrots, and potatoes. The dish is popular in both India and Thailand, but the flavor and spices used typically differ between the two cuisines. The curry can be vegetarian, or a protein, such as chicken, beef, or shrimp may be added.
Much of the flavor in coconut milk curry comes from the use of curry powder or paste. In general, Indian recipes usually call for curry powder, while Thai dishes use paste. A curry powder is actually a blend of many spices, and this mix varies depending on manufacturer or, in the case of a homemade powder, the family recipe. There are also different powders for different regions in India, for instance, a Madras curry powder is a specific blend of spices popular in South India.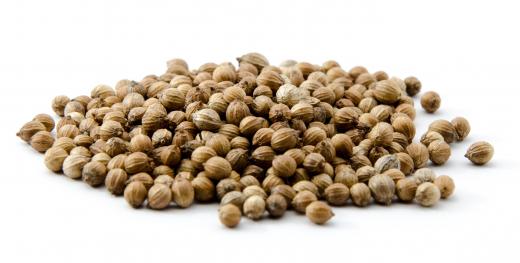 A variety of curry pastes can be purchased or made, but the most popular options in Thai cooking are red, green, or yellow curry mixtures. Each type of paste contains a variety of spices, and also gives the dish its color. The taste of curry powder and paste is usually quite strong, and the amount used in a recipe can be adjusted according to personal preference.
Coconut milk is the main liquid used when preparing a curry. A majority of recipes call for the use of a canned variety, but fresh coconut milk may be used if it is available. Other very flavorful spices are usually added to the coconut milk and curry powder or paste. Indian cuisine typically utilizes bay leaves, paprika, cinnamon, and cayenne pepper, while a Thai curry may include basil, cilantro, and fish sauce to enhance flavor.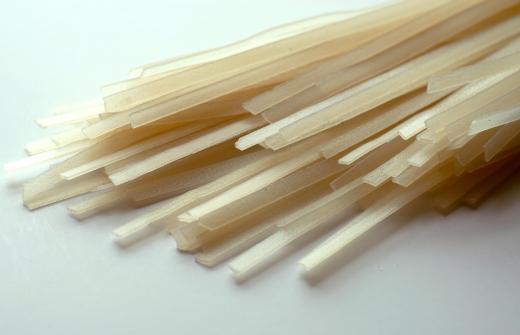 Making coconut milk curry is usually easy for anyone that has basic cooking skills. A large skillet or wok is usually used to stir-fry any vegetables included in oil. Then, sliced chicken or beef, or whole shrimp, can be added to the vegetables, if protein is desired. After these items are cooked, the spices, curry paste or powder, and coconut milk are added to the pan. The ingredients are typically left to simmer on the stove top in order to develop full flavor.
An Indian coconut milk curry is usually garnished with fresh coriander leaves or sliced green scallions, while a Thai coconut milk curry may be garnished with basil, mint, cilantro, nuts, or shredded coconut. Both types of curry are typically served with white rice, although rice noodles may replace that starch. An Indian coconut milk curry may also be served with a type of flat bread called naan.


By: Elena Moiseeva

Curry powder.

By: picsfive

Coconut milk.

By: areif

Curry spices typically include ground coriander.

By: roobcio

Paprika, which is often used to flavor coconut milk curry.

By: Red Rice Media

Rice noodles are used to make some varieties of coconut milk curry.

By: lidante

Coconut curry can be made with yogurt or cream and fresh vegetables.

By: Monkey Business

Chicken korma curry can be prepared with coconut milk.