Coconut juice is a thin liquid found in young coconuts. It is also sometimes referred to as coconut water, referencing the thin texture of this coconut product. This food is very popular in the tropical regions where coconuts are grown, and in some regions, exported coconut juice is available in grocery stores, as are young coconuts which can be processed for their juice. Unlike other parts of the coconut which are used for culinary purposes, coconut juice is fat-free, with a very mild flavor which people sometimes describe as "refreshing."
Young coconuts are coconuts which have not fully matured. They have skin which is green to mottled in color, and very soft coconut meat which is often gelatinous. As coconuts age, their husks darken and thin, and the amount of coconut juice inside also decreases, eventually disappearing altogether and being replaced with air.
Fresh coconut juice is clear, with a flavor which can range from sweet to slightly salty. In the tropics, it is often possible to purchase young coconuts which are opened on the spot for their juice, sometimes with a straw inserted so that people can drink right out of the coconut. Coconut juice is also sold in pasteurized form, in cans and bottles. Consumers can drink coconut water plain, or they can add various ingredients to it for a twist.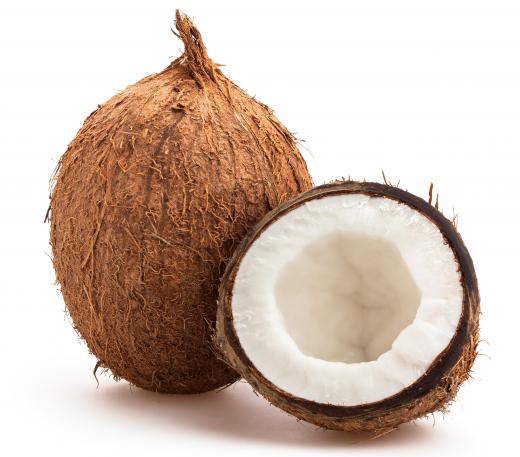 This coconut product is very high in potassium, and it also has some other useful nutrients like magnesium. Some people historically have used coconut juice as an energy drink, to promote hydration and replacement of electrolytes. Coconut water has also been used as an intravenous fluid, especially in military conflicts, where medical supplies can sometimes be difficult to obtain, particularly in remote areas.
Some companies market coconut juice as a health food, pointing to its nutritional content and low fat nature. It is certainly healthier than artificially sweetened sodas and juices, and the neutral flavor makes it very easy to work with or to manipulate with the addition of ingredients like shredded ginger, sugar, and mint.
People should not confuse coconut water or juice with coconut milk. Coconut milk is made by grating mature coconut meat, soaking it in water, and squeezing it to express a thick, milky liquid, while coconut juice is a naturally-occurring coconut product found in young coconuts. When opening young coconuts, consumers should be careful to open the fruits over a bowl to catch the juice, and scrubbing the outside of the fruit to remove dirt and fibrous material is recommended, so that the juice does not become contaminated by accident.
AS FEATURED ON:
AS FEATURED ON:

By: Andrey Kuzmin

Coconut milk is a milky liquid produced from maturing coconut meat.

By: bergamont

Coconut juice can be found inside younger coconuts.

By: ShpilbergStudios

In emergency situations, coconut water can be given intravenously to raise the volume of blood in a person.