Clam soup is a hearty soup whose main ingredient is clams. More commonly referred to as clam chowder, the soup can have either a broth base or a cream base. It comes in a number of varieties, including New England style, Manhattan style, Rhode Island style, and Delaware style. Regardless of the particular variety of soup being made, littleneck, longneck, or quahog clams are usually used.
New England clam chowder is generally made with a thick cream base. Often, the soup is flavored with bacon and includes chunks of potatoes, celery, and onions. Many people refer to this type of chowder as white clam chowder because of its milky white appearance.
Another type of clam soup is known as Manhattan clam chowder. This particular soup has a tomato-based broth. The broth itself usually has a thin consistency but can be thickened if tomato puree is added. Aside from the clams, the soup generally contains a substantial serving of tomato chunks, onion, carrots, and green beans. Some recipes also use potatoes and other types of beans as well.
A less popular variety of soup using clams is Rhode Island clam chowder. Generally, this type of soup has a light, thin broth that is heavily flavored with bacon and clam juice. It also includes chunks of potatoes, celery, and onions. Some individuals do add tomato juice to the broth to give it additional color and flavor, but traditionally, the broth for this type of clam soup is clear.
Delaware clam chowder is very similar to New England Style clam chowder except for one important twist. This type of clam soup also includes cubes of salted pork, usually sautéed in butter. It has a thick cream base and also includes chunks of celery, potatoes, and sautéed onions.
Other lesser known varieties of clam chowder can be found that have a little more spice to them. For instance, Hatteras clam chowder has a slightly thickened clear broth flavored with bacon and spiced up with plenty of white or black pepper. This soup also includes plenty of potatoes, carrots, celery, and onion. Minorcan clam chowder is similar to Manhattan style clam chowder, except for the notable addition of bacon or pork and datil pepper. Datil, a very hard-to-find pepper in the habanera family, adds a lot of spicy heat to this particular type of clam soup.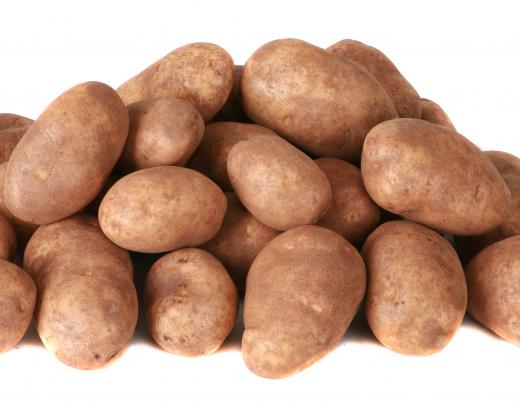 Given the many varieties of clam soup, any person who enjoys the flavor of clams can find one that suits his or her taste. Recipes abound on the Internet and in cookbooks that utilize a variety of flavor combinations. Considering the versatility of clam soup, with a little imagination, any recipe can be modified to suit individual preferences.
AS FEATURED ON:
AS FEATURED ON:

By: klsbear

Clams.

By: sparkia

Bacon is often included in clam chowder soups.

By: Joshua Resnick

Clams may be featured in chowder.

By: James Martin

Clam soup includes chunks of potatoes as one of its ingredients.

By: kellyschulz

Clam soup is often seasoned with black pepper.

By: andersphoto

Most versions of clam soup or chowder call for celery.