What Is Chocolate Clafoutis?
Chocolate clafoutis are baked French desserts made with flan, or pancake batter and chocolate. Though the majority of French clafoutis are made with fruit, chocolate clafoutis usually include melted chocolate in the dessert's batter. Chocolate clafoutis may be plain, or include fruits or other toppings along with the addition of the chocolate.
Complete clafoutis are firm around the edges. In the middle of the desserts, however, they are very soft and sticky, with a gooey, oozing center. Overcooking the dessert, can result in an unpleasant spongy texture rather than this distinctively rich, decadent dessert.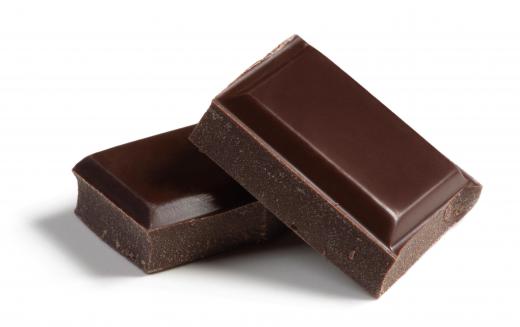 Clafoutis are prepared by mixing together flour, brown sugar, and eggs. Whipping cream and chocolate are also key ingredients when making chocolate clafoutis. A high-quality melted dark chocolate is usually preferred, though cocoa powder or melted white or milk chocolate may also be substituted. Some cooks add additional flavor elements, such as cinnamon or vanilla extract.
The mixture is combined, then poured into a pie pan or ramekins. The containers should be buttered beforehand in order to prevent sticking, as well as to add a buttery flavor to the completed desserts. The cooking time for the desserts will vary, though many recipes call for 20 minutes to half an hour of baking time. Once complete, the clafoutis are puffy and golden brown. If cooked properly, they will have risen in the oven, much like a souffle.
Powdered sugar may be dusted on top of the clafoutis before serving. The chocolate dessert should be served warm, and may be eaten alone or with a garnish or sweet side. Ice cream or frozen yogurt, especially vanilla varieties, are popular choices. Bright fruit, like caramelized oranges or apricots also make attractive accompaniments.
Traditional clafoutis are made with cherries, and chocolate clafoutis may still contain them for a deep, chocolate-cherry flavor. Washed cherries, with their stems removed, may be added to the bottom of the baking pan before pouring the batter in directly over the fruit. Purists maintain that the pits of the cherries should remain in the fruit in order to provide the fullest flavor, but in the end this is a matter of personal taste. Other fruits, such as pears, may be added in the same way.
For a dessert that is easier to eat, chocolate clafoutis may be made as muffins. Rather than using a pie pan, the batter can simply be added into a muffin pan. The muffin tins may be buttered for a more authentic French flavor, though cupcake liners may be used as well.
AS FEATURED ON:
AS FEATURED ON:

By: Andris T

Dark chocolate is melted before being used in the clafoutis batter.

By: denio109

Chocolate clafoutis usually include melted chocolate in the batter.