What Is Chocolate Brittle?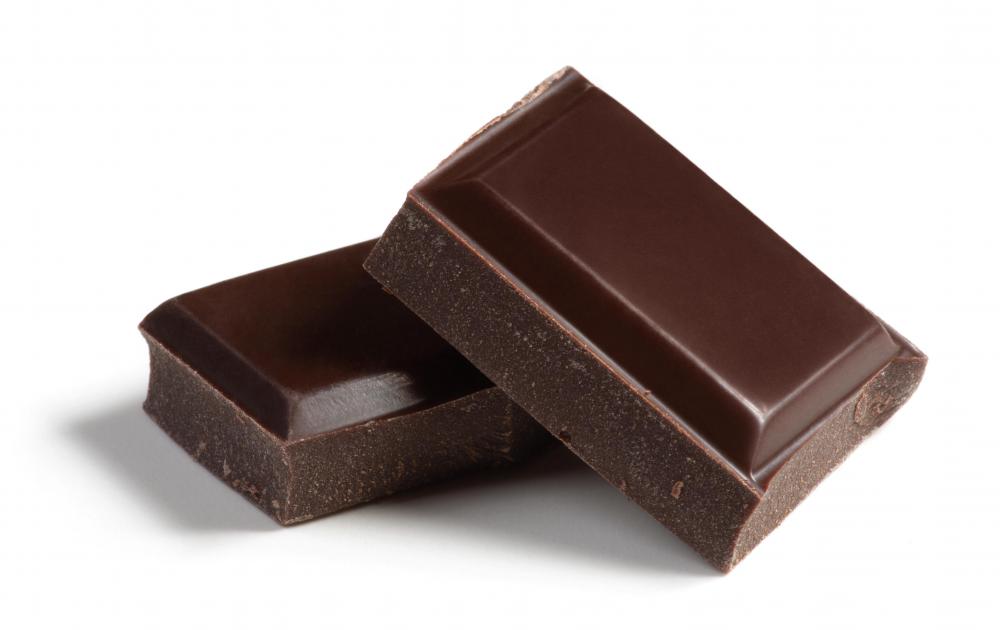 Making the confection known as chocolate brittle, also called chocolate bark, is a way to concoct a candy bar from home. Most often including nuts, either a single type or an assortment, this dessert requires some melting and reformulating of the chocolate so it hardens again with the added ingredients. Though recipes vary, this concoction invariably includes some form of chocolate, along with sugar, butter, nuts and even dried fruit like raspberries or raisins.
To make a standard version of chocolate brittle, the right proportions are needed to ensure the final product will harden to the right consistency. Many chefs use equal portions of sugar, butter and chopped nuts to sweeten and encapsulate the nuts. This is melted down into a sugary mass that can be spread into the bottom of a parchment-lined pan, then coated with melted semi-sweet chocolate and even more nuts as topping. After being left to harden in the refrigerator, it is broken into pieces and served. Some avoid this step by merely mixing chopped nuts into melting chocolate, which produces a noteworthy dessert but not a proper chocolate brittle.
Though not necessary, toasting the nuts before using them in chocolate brittle will impart the most flavor. This can be done by cooking them on a baking sheet in an oven set to 350°F (about 177°C). Small pine nuts will take just five minutes, but it could take as long as 25 minutes to properly toast thick-hulled varieties like chestnuts. Many kinds of nuts are suitable for this process, from pistachios and walnuts to cashews and almonds. A medley would not be uncommon, though many recipes recommend using just one kind of nut for the brittle, with perhaps another to garnish.
Several recipes for chocolate brittle also call for dried fruit like raspberries, raisins or apricots. These are chopped and added to the nut brittle mixture before being placed on the pan. Some cooks, however, mix the fruit into the melted chocolate instead or just use it to garnish the top of the brittle. Other frequent additions include vanilla extract or citrus zest.
A basic chocolate brittle has semi-sweet chocolate, but alternatives abound. White or milk chocolate are common substitutions. One recipe melts semi-sweet and white chocolate in separate pans, then swirls the two together just before pouring. Other variations add a layer of peanut butter for a Reese's Peanut Butter Cup® effect, or crushed peppermint candies in white chocolate for a holiday version.
Chocolate brittle often includes semi-sweet chocolate.

Dried apricots and other fruit are used to make some variations of chocolate brittle.

Crushed peppermint candies are used to make a holiday version of chocolate brittle.