Cashew rice is a dish typically made with chopped cashews and the cook's choice of rice cooked with various chopped vegetables and sometimes golden raisins. Different home cooks have varying opinions about which type of rice is the best to use for this dish, and some also recommend cooking cashew rice in vegetable or chicken stock rather than in water. This rice dish is often served alongside a meat entree such as chicken or fish. Cooking with cashews contributes additional protein to the rice; this recipe can be both healthy and flavorful with certain types of whole grain rice.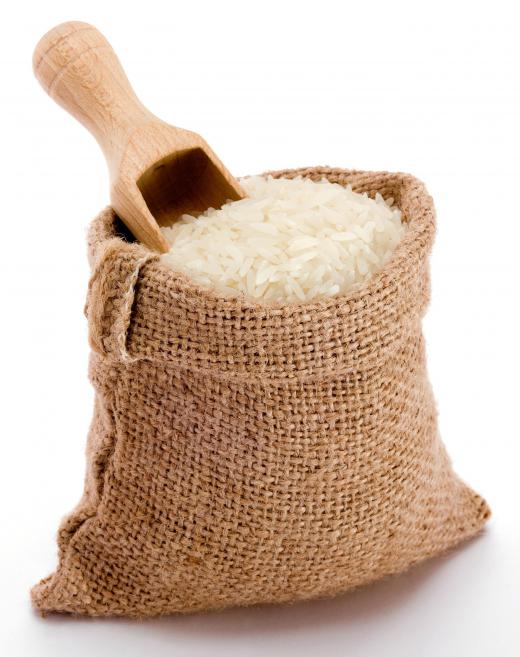 Some recipes for this dish call for long grain brown rice whereas others list wild rice as a recommended ingredient. Instant rice can work as well as other types that need to first be soaked prior to cooking, and their use can often cut down on overall cooking time. The rice component of this dish is usually made in a Dutch oven or electric rice cooker; some recipes can also include instructions to soften the rice in a skillet with coconut or sometimes macadamia oil before adding in the vegetables and stock.
Vegetables for cashew rice typically include carrots, celery, scallions, onions, and mushrooms. These are typically sauteed in oil before adding the rice, and the flavored stock of choice. Golden raisins are a favorite among some cooks who like mild added sweetness to their cashew rice recipes. Common seasonings such as salt and black pepper are often added once the rice is sufficiently tender; small amounts of parsley can also bring out more of the overall flavors. The cashew nuts are usually stirred in with the rest of the ingredients close to the end of the cooking time.
Many experienced cooks recommend using raw, unsalted cashews for this kind of cashew rice recipe. The roasted, salted, and flavored cashews found in the snack section of the grocery store can sometimes result in cashew rice that is a bit too salty. Flavored nuts such as wasabi and barbeque are usually not the best for cooking either. The raw cashews should ideally be roughly chopped with a sharp chef's knife before mixing them into the rice and vegetables. Once the finished rice has been allowed to cool and settle for about 10 minutes, it is often served with grilled salmon, halibut, or white meat chicken that has not been breaded or fried.


By: Shariff Che'Lah

Cashews.

By: airborne77

Uncooked rice.

By: Kondor83

Some versions of cashew rice call for wild rice.