Cash management is a broad term that covers a number of functions that help individuals and businesses process receipts and payments in an organized and efficient manner. Administering cash assets today often makes use of a number of automated support services offered by banks and other financial institutions. Services range from simple checkbook balancing to investing and using software that allows easy, automated cash collection. Proper management of company funds requires those in the finance department to be extremely literate regarding the different strategies and tools available. Technology is drastically changing how businesses manage their funds, streamlining processes.
Definition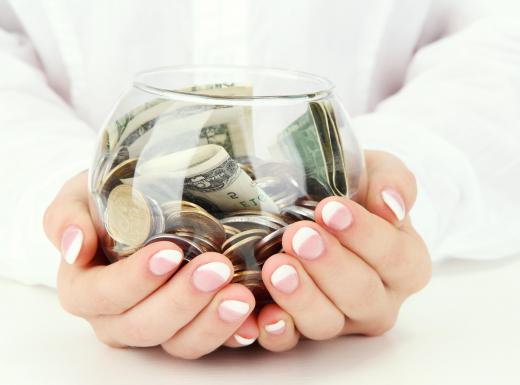 Cash management is a set of strategies or techniques a company uses to collect, track and invest money. Although cash by definition refers only to paper or coin money, in cash management, companies usually also work with cash equivalents such as checks. This is becoming increasingly common as the money system becomes more abstract, using electronic methods.
Purpose
In general, small businesses do not always have the ability to obtain the credit they might need. They have to rely more on their own money to meet expenses. Even in a large business, costs might come up that are not expected. Being unable to handle these situations puts a company at risk for loss of revenue or, in the worst case scenario, going out of business.
Cash management lets companies process and use their money in such a way that they have adequate funds available for regular costs like paying employees. It ensures that the company has some money for the things they did not plan on, such as a higher-than-expected increase in the cost of materials. The business also uses these techniques to check that people are paying as they should and that the funds are used for their original intent—that is, it prevents payment loss and heightens financial and overall operational accountability. These strategies influence cash flow, as well, making it more likely that the business will have the funds it needs at the right time.
Range of Services
Companies use a wide variety of techniques in cash management. One of the simplest is checkbook or account balancing, also known as reconciliation. Investing in stock and other securities is also part of financial management strategies for many businesses. Many organizations use software programs to automate how the business collects funds from clients. Agencies routinely use other methods such as Internet sevices, armored car services, automated clearing houses, controlled disbursement, lockboxes, positive pay and reverse positive pay, cash concentration and balance reporting.
Service Examples in Depth
Lockbox services are becoming fairly standard in cash management. This technique requires the business to set up a post office box to which the company's bank has access. The business uses this post office address as the remittance address on all invoices. The company's bank collects the payments from the post office box as they are received and posts them to the company's operating account. The business typically can access and download daily reports related to the payments, which the company can use for posting payments into the company receivables.
The concept of account reconcilement services also has become a must for many companies due to the increased incidence of check fraud. An ARC's goal is to keep the checkbook for an operating account balanced at all times. As an additional level of protection, the ARC allows the client to upload a daily listing of checks that have been issued on the account. In the event a check is presented that is not included on the authorized lists, the bank will reject the check.
Many banks offer the ability to transfer a fixed amount of money into mutual funds or other investments through automated debit. This allows the client to increase the value of the corporate investment portfolio incrementally without having to spend a great deal of time working through complicated investment strategies.
Financial Literacy
The wide range of cash management services and techniques available means that those who are in charge of a company's money have to demonstrate a high level of financial literacy. They must be aware of the benefits and drawbacks for each option the company considers and how those options interact to form the business' collective financial approach. New options become available over time, so financial workers routinely must reevaluate the techniques the company is using to see if they are still effective given the context of the market and the company's objectives.
The Role of Technology
Technology has vastly changed how companies approach taking care of their money. An example is the automated clearing house, or ACH. Through these technological networks, a business can transact a business-to-business cash transfer that deducts the payment from the customer account and deposits the funds in the vendor account. Generally, this service is available for a fee at local banks.
Another good example of businesses using technology in cash management is the use of software to automate payroll or the routine purchase of materials or services such as electricity. Software also can be used for activities such as preparing budget reports, purchase orders and fiscal statements. Using software can be costly due to the need for updates and hardware, but most companies find that the savings gained from these tools more than justifies their cost.


Cash management includes balancing a checkbook.

By: Africa Studio

Cash management includes collecting spare change in one convenient spot.

By: qingwa

An armored car service is one service that companies may use for cash management.

By: Christian Delbert

Post office boxes may be used as a lockbox where all payments are made to the post office box, and the company's bank collects the funds to deposit.

By: M. Schuppich

Processing receipts is an important component of cash management.