What Is Butterscotch Liqueur?
The term butterscotch liqueur describes any alcoholic spirit that tastes like butterscotch. Most such liqueurs contain a combination of brown sugar and butter to obtain the desired sweet and smooth, rich flavor. The coloring in these spirits may be artificial caramel coloring or may come from the molasses in the brown sugar. Though many people find this liqueur too sweet to drink on its own, it is the main ingredient in a number of cocktails. Some drink enthusiasts may also enjoy making this delicious liqueur at home.
Some manufacturers make different flavors of butterscotch liqueur, mixing different tastes together right in the bottle. Vanilla and apple are common, as are cream and coffee. All of these flavors may also be added to butterscotch liqueur after it is poured, to create a wide array of cocktails. Many of these recipes are popular during the autumn and winter months because butterscotch has such a warm, sugary flavor. Also, it combines well with the spiciness of cinnamon, mellow pumpkin, and creamy chocolate.
The above flavor suggestions may be added to butterscotch liqueur in the form of alcoholic beverages or non-alcoholic flavorings. For instance, a fast and tasty winter cocktail might include a cup of hot coffee, a few pieces of milk chocolate, and a few splashes of butterscotch liqueur. This would generally create a mildly alcoholic drink. Those looking for something stronger might use coffee as the base, add a shot of coffee liqueur, some chocolate cordial, and a splash of the butterscotch liqueur. This second recipe would presumably be much stronger because it contains much more alcohol.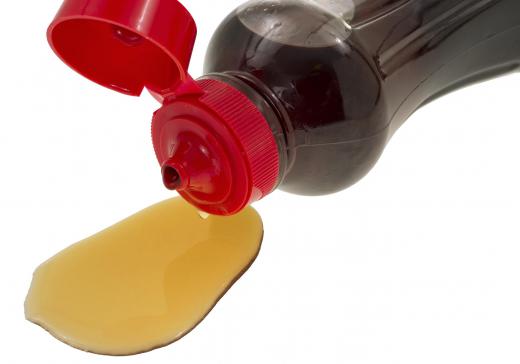 Many butterscotch liqueur recipes seek to recreate some traditional seasonal flavor in the form of a cocktail. Apple and pumpkin pie are two very popular after-dinner cocktails. When creating an apple pie cocktail, the ingredients generally include apple cider, cinnamon liqueur, apple schnapps, and some butterscotch spirit. There are, of course, variations that omit the cinnamon and apple-flavored spirits in favor of non-alcoholic ingredients. For pumpkin pie drinks, a recipe usually includes pumpkin cordial, milk, butterscotch spirits, and cinnamon sprinkled on the top.
Those interested in creating homemade butterscotch liqueur should generally start with a base of either good-quality brandy or vodka. Brandy makes a heavy, sweet mixture, while vodka-based recipes often taste sharper and lighter. Some people like to mix equal parts of the two. Ingredients for creating the butterscotch flavor include butter, molasses or brown sugar, and butterscotch extract. Some may prefer to use maple syrup and white sugar instead of molasses or brown sugar. Experimentation is often key to discovering a good recipe for this spirit.
AS FEATURED ON:
AS FEATURED ON:

By: dla4

Butterscotch liqueur can be made at home using vodka as a base.

By: Bert Folsom

Some versions of butterscotch liqueur feature maple syrup.

By: volff

Some coffee drinkers add butterscotch or another flavored liqueur to their brew.

By: Natika

A few pieces of chocolate may be added to coffee with butterscotch liqueur for a tasty winter cocktail.

By: Andres Rodriguez

A liqueur is sometimes referred to as a cordial.

By: Dangubic

Excessive consumption of alcoholic beverages may lead to high blood pressure.