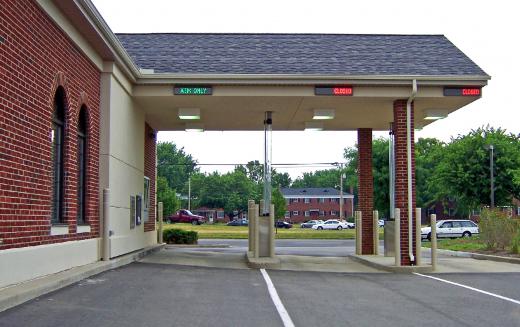 Branch banking is the act of doing one's banking business at a location that is separate from the bank's central business location. Many large and small banks use branch banking in order to extend the reach of their services to different locations in a community, state, or country. Smaller branches are also less expensive to operate, and often easier for customers to access, while providing all of the features of a larger bank.
Historically, branch banks were part of a larger building, often found in strip malls or even in grocery stores or discount stores, sharing the location with another business. Today, however, branch banking can take place at a number of different locations, and many banks build individual branch locations that are independent of other businesses. Each type of location is still considered a branch bank.
In general, most of the services offered at a large bank can be completed at a branch banking location. Locations found in grocery and discount stores often do not have as many options as other branch services; it is often not possible to "drive-through" at these locations, because the bank is located inside the store. In addition, though deposits can be made at this type of bank branch, safe deposit boxes are typically never available, because the security is simply not high enough. Otherwise, these locations typically offer all other services, and generally include an automated teller machine (ATM).
Other types of bank branches generally do have the option to drive through, when they are standalone brick-and-mortar businesses. These may also offer the option of safe deposit boxes. There are generally tellers available to provide assistance and answer questions. The branch banking that can take place includes actions such as making withdrawals, making deposits, cashing checks, and opening checking and savings accounts, or purchasing certificates of deposit (CDs), just to name a few.
For many people, the only business they will ever do with their bank is through branch banking. The central location of the bank may be too far away to visit, and the branches of the bank will provide all the necessary services one may need. It is also possible to apply for loans, such as personal loans, vehicle loans, or even mortgages, through branch locations. With all of these options, branch banking has made banking much more convenient for many people, in addition to the large numbers of people who simply do all their banking online.


By: Sheri Armstrong

Bank branches often offer drive-thru services.

By: imtmphoto

Branch banking can take place at a number of different locations.

By: sanjagrujic

Most services of a large bank can be done at one of their branches.

By: JJ'Studio

Some people prefer to visit a branch bank, even if the services they need can be performed online or over the phone.

By: EyeMark

Bank branches may be found in a strip mall.

By: sakura

Branch banks may have safety deposit boxes or some other way to store valuables.