What Is Blueberry Frozen Yogurt?
Blueberry frozen yogurt is a dessert food made by using blueberries to flavor one of several different types of frozen yogurt. The blueberries used in this type of dessert may be used whole or may be processed in one of several different ways. Different varieties of blueberry frozen yogurt make use of different types and concentrations of yogurt, which has an impact on the flavor, consistency, and fat content of the finished dessert. This dessert can be easily made by home cooks and works especially well with fresh berries.
Typical frozen yogurt desserts consist of yogurt, sweeteners, and flavoring agents. Many varieties rely on a mixture of milk and yogurt, while some recipes, especially those designed for home cooks rather than industrial production, use only yogurt. Frozen yogurt is typically sweet but not as sweet as other dairy desserts, as the yogurt base is naturally tart. The use of blueberries as a flavoring ingredient amplifies this tartness. Eating yogurt provides several benefits, including the introduction of helpful microbes into the body, and many varieties of frozen yogurt provide these same benefits.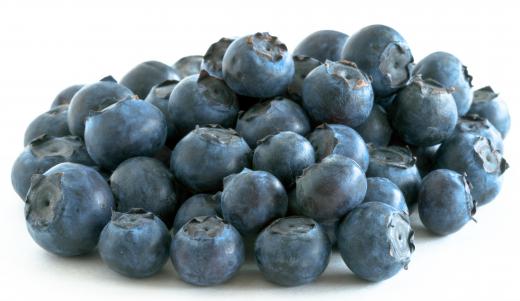 When blueberries are added to frozen yogurt as a flavor ingredient, they may be prepared in several different ways. The berries are, typically at least, lightly cooked, to encourage them to give up some of their juices and enhance their flavor. Some varieties of blueberry frozen yogurt call for the berries to be processed and strained after cooking and add mostly the juice of the berries to the yogurt. Other recipes call for whole berries or for a mixture of juice and berries. Any of these preparations should confer most of the flavor and health benefits of blueberries so long as real berries are included in a reasonable concentration.
Each type of yogurt used as the base for blueberry frozen yogurt has an impact on the characteristics of the finished food. Greek yogurt is thick and rich and will produce a creamy, almost custard-like frozen yogurt. Yogurts with a lower fat content will produce thinner finished products and are more likely to require the addition of stabilizers to keep the yogurt properly gelled, but will also produce a finished yogurt that is lower in fat and often lower in calories.
Commercially-produced blueberry frozen yogurt is widely available but is also easy to make at home. An ice-cream maker can be used to make frozen yogurt as well. Home cooks who make their own blueberry frozen yogurt can experiment with different berry preparations and types of yogurt or sweetener.
AS FEATURED ON:
AS FEATURED ON:

By: Mariusz Blach

Blueberries can be used to add flavor and color to frozen yogurt.

By: Colinda McKie

The type of yogurt used in blueberry frozen yogurt has an effect on taste, consistency and fat content.