Biofreeze® is a topical pain reliever that is frequently used in the treatment of sore muscles, sports injuries, and arthritis. It is a form of cold therapy that lowers the temperature of the painful area below body temperature, which numbs the nerves and relieves pain. Biofreeze® is able to penetrate deeper into the muscles and tissues than the cold from an ice pack can. One application can relieve pain for up to five hours. It is often used by massage therapists, chiropractors, physical therapists, and sports trainers to help with their clients' pain management.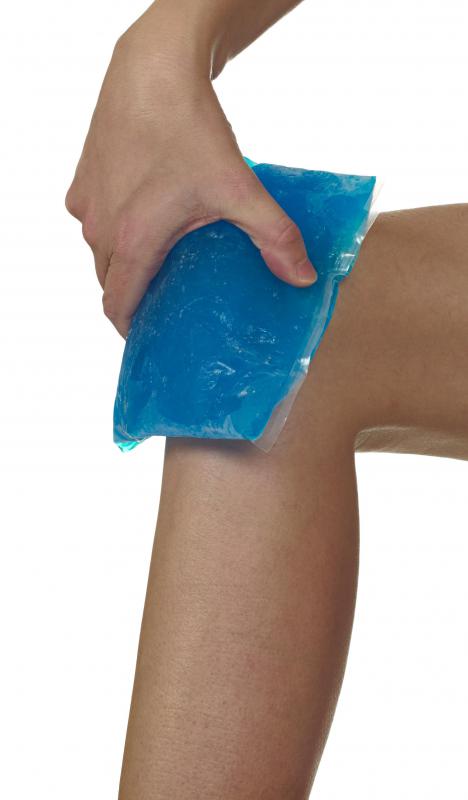 The active ingredient in this pain reliever is ilex, an herbal extract from a type of holly shrub that grows in South America. Ilex has been used by the Indians in Paraguay for centuries because of its synergistic effect when combined with other healing agents. It is this synergistic effect that allows the cold from the combination of ilex, menthol, and camphor in Biofreeze® to penetrate so deeply into sore muscles and joints. These natural ingredients work together to reduce swelling and inflammation and relax tense muscles.
Massage therapists often use Biofreeze® instead of massage oil to relax tension in their clients' neck and shoulder areas. Many chiropractors and physicians use it on their patients to reduce pain and inflammation. It is often sold at chiropractic clinics and physicians' offices, and can also be found at many drug stores. No prescription is needed.
Biofreeze® is available in a packet, tube, spray, roll-on, and pump. Small sizes are available for individual use, and large sizes are available for medical professionals to use in clinics. No matter which size or type of package it comes in, it always has green lettering on a white background for easy product recognition. It isn't greasy and doesn't stain skin or clothing. Biofreeze® doesn't contain any waxes, oils, or petrolatum.
The roll-on is the most convenient form to use to avoid getting the gel on hands or clothing, and is also good for pressing on trigger points. The spray is a good choice for a person who wants to apply the Biofreeze® to an area that is hard to reach, such as the middle of the back, and does not have someone available to help apply the gel. The area where it has been applied should never be wrapped or bandaged. A heating pad should never be used along with this cold therapy analgesic.
Arthritis sufferers might benefit from Biofreeze.

Biofreeze® is able to penetrate deeper into the muscles than an ice pack.