Beef chow fun is a Cantonese dish that is popular in Hong Kong. It is a mixture of rice noodles, beef and bean sprouts. The entire dish is stir fried in a wok over very high heat. Many variations have arisen, including the use of black bean sauce and red pepper flakes. Although there is beef in the dish, the main components are the rice noodles and the vegetables.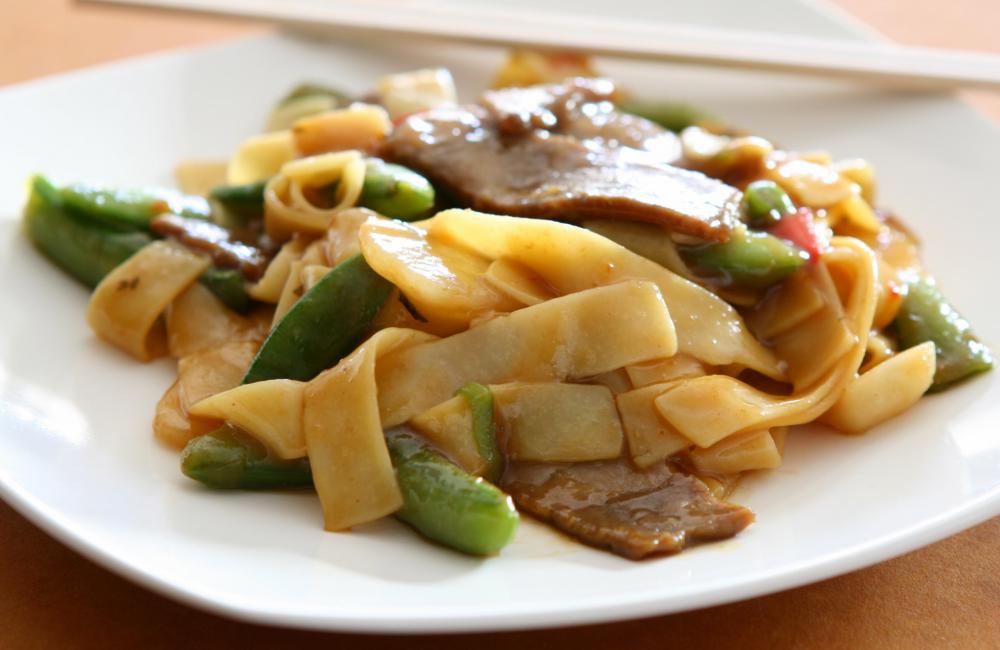 The wide rice noodles in beef chow fun are called ho fun noodles. They are thick, very rich in texture and carry liquid well on their surface in a dish. There are many recipes that involve ho fun noodles, such as char kway teow, which is similar to beef chow fun except it includes seafood instead of beef. These noodles also are enjoyed alone, simply coated in chilies and soy sauce.
One of the most important parts of making beef chow fun is the technique used while cooking. The dish is made over very high heat. Restaurants have special burners that are used to achieve this level of heat. A powerful flame is forced up through a wide opening in the range top and the chef controls it with a pedal at the bottom. By controlling the flame, a skilled chef can create intense heat but still not burn the chow fun.
The wok used for the dish must be hot, but the amount of oil also must be carefully monitored. The ingredients and high heat could quickly remove the oil from the pan, in which case the dish would burn. Too much oil would coat everything in it, diluting the taste and texture.
The dish begins with the beef. It can be marinated in soy sauce, though originally it was not. It is added to the wok, fried until done and set aside. The wok is cleaned and re-oiled for the next step.
The ho fun noodles are then added to the wok. This is where the level of heat is important because, if the oil dissipates and the heat is too high, then the noodles will stick and burn quickly. If the heat is too low, then the noodles have a chance of absorbing the oil in the pan. The noodles are quickly fried and the bean sprouts are added. A moment later, the beef is added back to the pan and the beef chow fun is complete.
The popularity of beef chow fun has lead to some variations. Black bean paste or sauce is a popular addition, as are ginger and garlic. Chili peppers or red pepper flakes add a bit of bite to the dish. Many recipes also call for the addition of green onions and oyster sauce. The flavor of the basic recipe lends itself well to experimentation and new ingredients.
The flag of Hong Kong. Beef chow fun is a Cantonese dish that is popular in Hong Kong.

Beef, rice noodles and bean sprouts are used to make beef chow fun.