What Is Basil Vinaigrette?
Basil vinaigrette is a type of dressing that typically immerses basil and other herbs in olive oil and vinegar. It may be used over salads, as a sauce with chicken or fish, or as a dip for vegetables and bread. The flavor of the dressing may be sweet, spicy, or tangy, depending on the preference of the chef, and can be changed to accentuate virtually any type of food.
The two foundational ingredients of any basil vinaigrette recipe are olive oil and basil. High quality olive oil acts as a base binding agent that is smooth in texture and bland in flavor. This allows the rich and unique flavor of the basil leaves and other spices to remain strong without the heavy muting effect that can be produced by vegetable and peanut oils.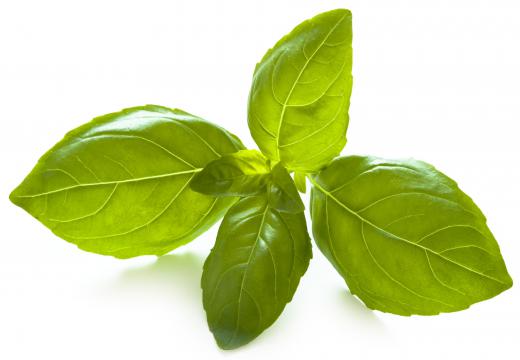 Fresh basil should be used in this type of recipe instead of dried herbs to achieve the fresh, crisp flavor released by the leaves when they are first cut. This herb can be grown from seed or a young plant in both outdoor and indoor containers, and can be prepared for cooking using a sharp pizza cutter. Any type of basil may be used in the basil vinaigrette, each generating a different signature flavor that is unique to the plant. Sweet basil is the most common variety used and is the backbone of many Italian dishes. The anise variety is often described as producing a sweet flavor that resembles licorice, while lemon and cinnamon varieties combine the crisp nature of basil with citrus and spice.
Other ingredients often found in basil vinaigrette are salt, black and red crushed pepper, garlic, and vinegar. The type of vinegar used can affect the overall flavor of the dressing, just as much as the variety of basil chosen. Light vinegars, such as white, rice, and champagne may be combined with lemon or anise basil for a sparkling and refreshing vinaigrette, paired often with shellfish, spinach leaves, and cooked pasta. Red wine and balsamic vinaigrettes are heavy and dark, and can be used with standard sweet and cinnamon basil to accentuate the stronger flavors of raspberries, walnuts, and goat cheese.
Herbs and spices can be ground together in a food processor prior to combining them with the oil and vinegar. This creates a smooth and sometimes creamy dressing texture that is often preferred in vegetable and fruit salads. Fresh herbs can also be left in larger leaf portions for a chunkier dressing that complements white, crusty bread.
AS FEATURED ON:
AS FEATURED ON:

By: leeavison

Basil.

By: Denis Tabler

Greek salad with tangy feta and a lemon-basil vinaigrette.

By: margo555

High-quality olive oil is a prerequisite when making a basil vinaigrette.