Also known as aash, aush is a traditional Afghan noodle soup. It is prepared with various vegetables and mint leaves. The soup's broth is a tomato-based soup that contains yogurt and other flavoring agents, such as garlic and chili powder. Some cooks prefer to create a more Westernized version of the dish, which is similar to chili.
The variety of meats and vegetables in the soup, as well as its yogurt content, make it packed with nutrients. Though it can be a filling food, it is often served as a side dish. Like other soups and chili dishes, it can also freeze well and be saved for serving in the future as a quick reheated meal.
Meats used in aush typically include lamb or beef. Any ground meat may work, though these two yield the best and most authentic results. Beans or peas are also be included in most recipes. Kidney beans are the most common beans used, though a mixture of lentils and chick peas, or either ingredient alone, may be used instead.
Several specialty ingredients that are unique to Afghan cuisine are included in most recipes. These might include reshteh, or Iranian noodles, as well as kashk, or thickened Iranian whey. If these ingredients cannot be found locally, they can be purchased in specialty Afghan food stores or online. They may also be substituted in Westernized recipes, such as with all-purpose flour.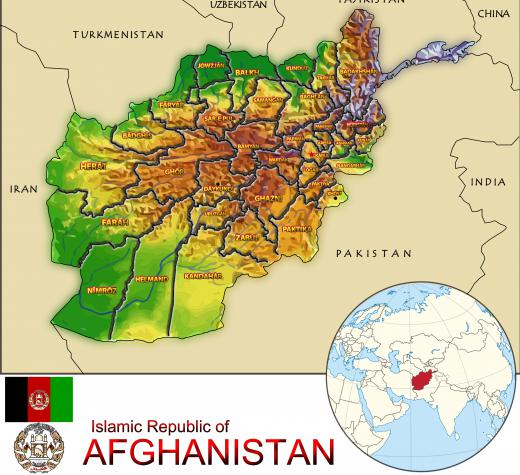 When preparing the aush, the noodles should be cooked first. To ensure the most authentic flavor, these should be reshteh noodles. If noodles are unavailable, cooked rice will suffice in the dish. Some chefs prefer to use egg noodles, wonton sheets, or even fettuccine noodles, especially if reshteh are unavailable. Making homemade aush dough is another option, and it will yield the closest results to the traditional Afghan soup.
Homemade reshteh is simple enough to make. It consists of plain flour, water, and salt. The dough is mixed and rolled like many other doughs, then separated and left to rest. It is cut into strips after its resting period, and left to rest longer before being used in the soup or other recipes.
Depending upon the recipe, the rest of the process used in making aush may be quite complicated or simple. Meatless versions of the soup may call for simply combining the ingredients, browning some of them, such as the onions, separately for flavor. Other recipes may call for browning meat separately while cooking the vegetables together, then adding tomato sauce to create an oily sauce base. Chefs should select which recipe suits their taste according to the ingredients suggested.
AS FEATURED ON:
AS FEATURED ON:

By: Schlierner

Kidney beans, one of the ingredients in aush.

By: juan35mm

Aush is served throughout Afghanistan.

By: mrjpeg

Aush contains yogurt.