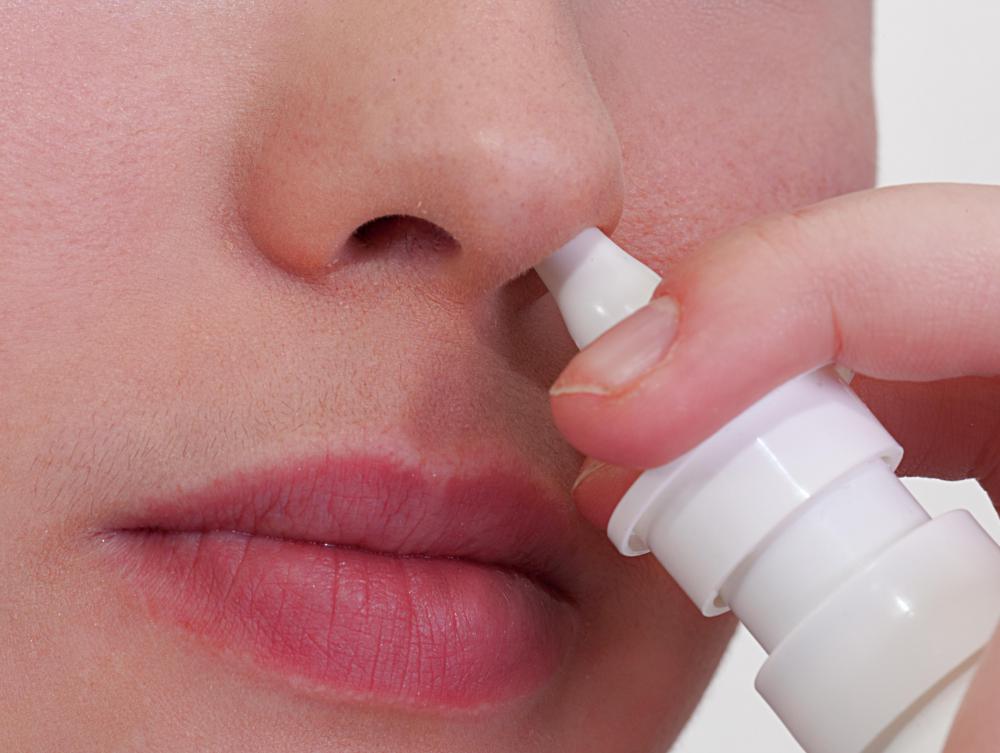 Astepro® is an antihistamine that is used in the treatment of hay fever and allergies, which cause symptoms such as runny nose, sneezing and itchy nose. This medication comes in the form of a nasal spray, generally prescribed to be sprayed into each nostril twice a day. Known generically as azelastine nasal spray, Astepro® helps by blocking the way the chemical histamine affects the body. Use of this medication might improve symptoms involved with common or seasonal allergies.
There are variations of this medication called Astepro® 0.1% and Astepro® 0.15%. Each type contains a different amount of the active ingredient, azelastine hydrochloride. Patients should consult with their doctors to find which type is best for their symptoms. Children younger than 5 years old are not advised to use this nasal spray.
It is recommended that when using Astepro® for the first time, patients should pump four sprays into the air or until a fine mist appears, to prime the unit. If it goes unused for three or more days, this should be repeated with two sprays or until a fine mist appears. Patients should attempt not to sneeze or blow their nose after using the nasal spray. This spray is meant to be used only in a patient's nose; it should not be sprayed into the patient's mouth or eyes.
The side effects of Astepro® might include bitter taste, drowsiness, tiredness, increased weight and nasal burning. It might cause patients' thoughts or reactions to become impaired. Patients should contact their doctor if these symptoms become severe or are long in duration.
If more severe symptoms occur — such as cough, sores in the mouth, blood in urine, rash or hives — patients should seek medical help immediately. The potential side effect of drowsiness is why patients taking Astepro® are advised not to drive a car or operate heavy machinery until they see how the medication affects them. Patients should avoid the consumption of alcohol, because it would increase the drowsiness associated with the medication
Before using Astepro®, patients should tell their doctors of any other medications or medical conditions or whether they are pregnant, breastfeeding or planning to get pregnant. Patients should tell any doctor, dentist or eye doctor whose treatment they are under that they are taking Astepro®. This medication should be stored away from high heat or moisture, in a secure container and where children cannot reach it.
Astepro comes in nasal spray form.

Astepro® is used to treat allergies.

Children should be at least 5 years old before taking Astepro.