What is are Some Types of Papercrafts?
Papercrafting has been around a long, long time. There are many types of papercrafts, sometimes spelled paper crafts, all of which are not only easy and fun but also rich with history and unique origins. In fact, papercrafting ideas were actually influenced by a variety of cultures. Most papercraft techniques came about simply as a creative means for decorating when luxury items were scarce. Other papercrafts began as a way to pass time. As time went on, more and more papercraft activities became popular hobbies, sparkling creativity in both young and old alike.
Holiday papercrafts are one of the most common types of papercrafting activities. These papercrafts use a variety of paper sources, from newspaper and paper bags to construction paper and even tissue paper. Anything from paper dolls to chains can be fashioned together from paper and used as garland for holiday decorating. Festive ornaments can be crafted from paper and dangled from Christmas trees. Even paper cones have a place in holiday papercrafting, hung in lieu of stockings and filled with treats.
Gift wrapping can also be created using papercrafts. Whether for holidays, birthdays, or other special occasions, gift wrap is a popular and fun papercrafting activity. With decorative touches, newspaper can make attractive gift wrapping. Paper bags can be dressed up and used for wrapping gifts as well. Using food coloring and tissue paper, colorful tie-dye effects can be created. Once dried, it becomes quite impressive as wrapping paper.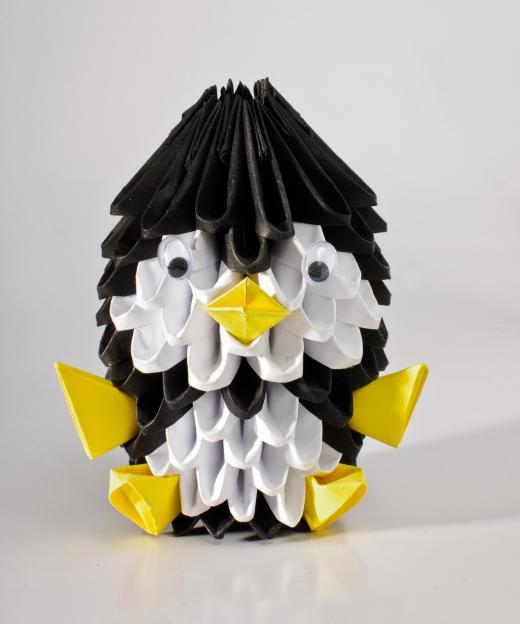 Card making is another form of papercraft. Cards of all sorts can be crafted from various paper materials. One of the most popular types of card-making papercrafts is known as paper tole. With this type of papercrafting, three-dimensional images are created. Using various prints and cutouts, these are strategically layered onto a card to create the desired image or impression.
Once considered "poor man's art," decoupage has since become another popular type of papercrafting. Decoupage papercrafts are commonly used to create stunning, decorative effects on furniture and other items. This form of papercraft involves gluing paper cutouts onto an object and covering them with varnish or lacquer. Nearly any type of paper can be used. Items can even be aged for greater interest by using tea or coffee.
Other interesting papercrafting techniques include marbling and quilling. Marbling involves the use of colored water-based paint to create marble effects on pieces of thick, white paper. Quilling papercrafts uses thin sheets of paper, which are folded or rolled to form various shapes or pictures. Scrapbooking is also considered a popular papercrafting activity. Scrapbooking papercrafts can take on similar tole-like effects by using various cutouts and other embellishments to create a 3-D impression.
Many types of papercrafts originate from other cultures. Two popular examples are origami and papier maché. Origami is the Japanese art of paper folding using specialized paper in various colors and textures. Numerous shapes and items can be crafted using origami. Another interesting papercraft of Chinese origin is papier maché, which involves covering various shaped objects with strips of paper and paste.
AS FEATURED ON:
AS FEATURED ON:

By: spinetta

The comics sections of newspapers can make for interesting wrapping paper.

By: amphotolt

Origami is considered a papercraft.

By: smuay

Construction paper comes in various colors and is often used in children's arts and crafts.

By: Alexey Stiop

Gift wrap can be used to make themed papercrafts for certain holidays, like Christmas.

By: Sergey Mostovoy

Decoupage is one type of popular papercrafting.

By: lily

Papercrafts might have a holiday theme to them.