Apricot cake is a type of cake with apricots in the mixture or arranged on top. Apricots in both dried and fresh form can be used on cakes, but generally fresh apricots will be added to the top of the cake prior to baking. Apricot cake usually incorporates flavors such as cinnamon, sugar and vanilla.
Apricots are fruits that are similar in appearance to a peach and in the same genus of fruit, along with plums, nectarines and cherries. The skin of an apricot can be any color from yellow to orange, and this can be one way to tell the quality of the fruit. Generally, the more pale-skinned apricots should be avoided, along with any apricots with bruised or wrinkled skin. Apricots have large stones at their core, which can be easily removed if the fruit is ripe. The skin of an apricot is soft and velvety, and the flesh should be quite firm but not hard.
Cake originated from ancient Egyptian, Greek and Roman societies, and has been a popular dessert in the west for centuries. It is similar to bread but sweeter in flavor, and often includes egg in the mixture. The Romans are the oldest civilization known to have made fruit cakes, often using ingredients such as raisins in the mixture. This is essentially the origin of apricot cake, although it isn't known if the Romans used apricots specifically. Generally, cakes are made to be very sweet, often incorporating chocolate or thick icing to sweeten the taste. Cakes are eaten at many celebratory occasions, such as birthdays and weddings.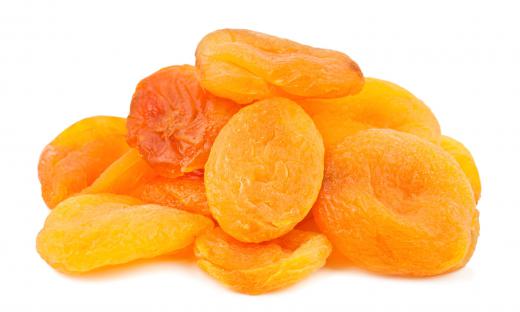 Apricot cake can be made in many different ways, using the same methods to make any other fruit cake. Many cakes, for example, have a thin layer of jam in the middle of two sections of cake, and this could be done with apricot jam. Other ways to make apricot cake include mixing dried or fresh apricots into the cake mixture and layering fresh apricots on top of the cake. Including apricots in the cake mixture makes more of a traditional-style fruit cake, while layering them on top is a more decorative approach.
Some general cake recipes may not be suited to including apricots, but most will work well. The ingredients for an apricot cake may include self-rising flour, butter, caster sugar, egg, vanilla extract and cinnamon. The mixture is combined and then baked in an oven.
AS FEATURED ON:
AS FEATURED ON:

By: Malyshchyts Viktar

Fresh or dried apricots can be used for apricot cake.

By: Volodymyr Shevchuk

Some recipes for apricot cake call for dried apricots to be added to the mixture.