What is an Insalata Caprese?
An insalata caprese is a kind of salad unique to Italian cuisine that is made of sliced ripe tomatoes, slices of fresh buffalo mozzarella, and either whole or chopped fresh basil leaves. The salad is often dressed with salt, pepper, olive oil, and balsamic vinegar. The mozzarella, tomatoes, and basil are often fanned out around a plate, creating a very appealing pattern of colors. In Italy, this salad is served as an antipasto, which is a term used to describe a first course or appetizer course. This makes it different from other salads that are usually served as side dishes.
Assembling an insalata caprese is a very fast and easy process. It simply involves a small amount of knife work, arranging the ingredients on the plate, and adding a dash of seasoning and a few drizzles of oil and vinegar. The more difficult part of making insalata caprese is finding the right ingredients. The fact that there are so few ingredients in the dish and the fact that these ingredients are very minimally treated means that the quality of the dish rests almost entirely on the quality of the ingredients.
When choosing tomatoes for insalata caprese, it is important to choose vine-ripened tomatoes of the highest quality in order to ensure the best flavor. Young basil is often the most aromatic and the most flavorful. Many chefs avoid using hydroponically grown basil when making insalata caprese because they believe it is not nearly as flavorful as basil that is grown in soil under the sun.
For some people, the most difficult part of assembling the ingredients for an insalata caprese is finding good buffalo mozzarella. The best places to find good buffalo mozzarella are Italian grocery stores, specialty cheese shops, and grocery stores that have an extensive cheese section. In most cases, buffalo mozzarella is kept in water until it is served in order to keep the cheese soft and moist. This is a key feature to look for when shopping for the cheese.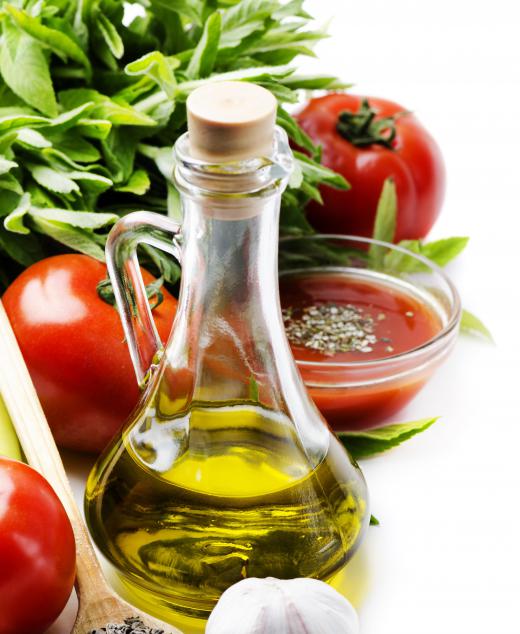 In addition to being served as a salad, insalata caprese has also become a popular sandwich filler. It is served on baguettes, on whole grain bread, and even within panini. Just as insalata caprese has become popular in many areas outside of Italy, so have sandwiches made with these ingredients. Insalata caprese sandwiches are often popular among vegetarians as the tomato and thick, creamy mozzarella make for a hearty, meat-free sandwich.


By: rimglow

A small bottle of balsamic vinegar, which is often used to dress insalata caprese.

By: Barbara Pheby

Basil leaves are one of the main ingredients in insalata caprese.

By: Viktor

Bocconcini, small balls of fresh mozzarella, can be used in an insalata caprese.

By: margo555

Olive oil is a key ingredient in insalata caprese.

By: hitdelight

In addition to basil, insalata caprese features juicy tomatoes and fresh mozzarella.