An inkwell is a container used to hold ink. Inkwells can be used by people who use quill and nib pens, and they can also be used to refill the cartridges of fountain pens. Although the use of inkwells is on the decline, they are still available from some art supply stores, and many containers of high-end writing inks come in jars which are designed to function as inkwells in addition to storage containers.
The materials used to make an inkwell vary. Glass, porcelain, and stone are all very common because they are non-reactive, so they will not taint the ink. However, metals such as pewter may be used, along with wood and even plastic. Classically, inkwells have lids which can be used to prevent evaporation and contamination, and some are designed to be screwed shut so that the inkwell can be transported, which is useful for travelers.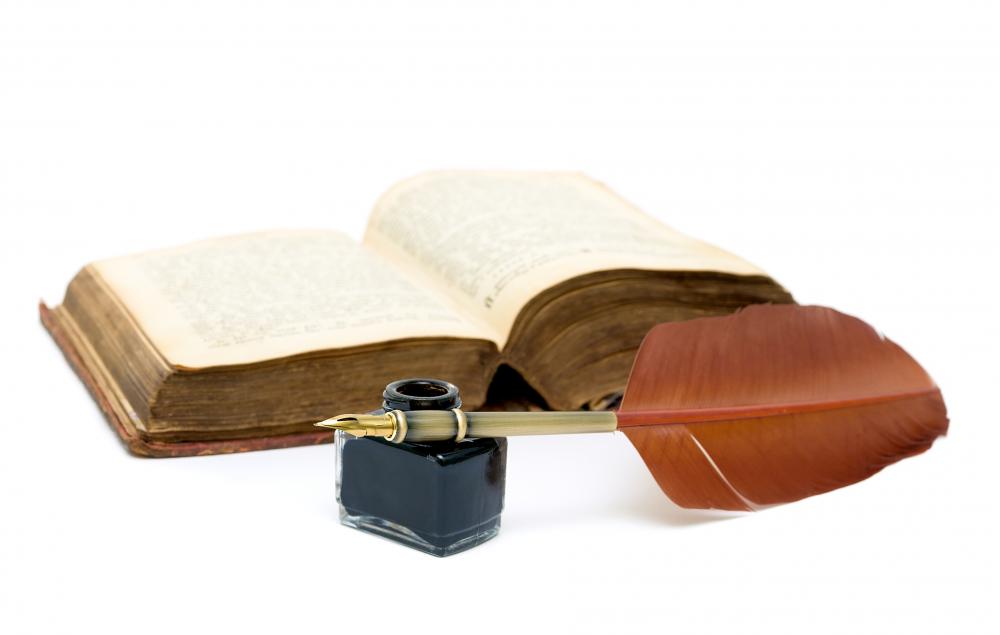 Some antique desks and desk sets have built-in inkwells, reflecting how widespread the use of nib pens was until the 20th century. Such pens need to be repeatedly dipped in ink as the user writes, as opposed to being continually fed from a tube inside the pen. As one might imagine, learning to work with nib pens and inkwells can be a bit challenging, as it is easy to create blobs and smears of ink by being inattentive.
There are a range of reasons to use an inkwell and nib pen, rather than a fountain or ballpoint. Many people who practice calligraphy use an inkwell because it is traditional, and because it is easier to switch between various nib widths. Others simply enjoy the experience of using a traditional nib pen, and some people may explore nib pens while working on history projects. One handy thing about nib pens is that changing colors is quite easy, as the pen simply needs to be rinsed before it can be dipped in a fresh color.
Antique inkwells are regarded as a collector's item by some people, and they can fetch a very high price. Antique stores, auctions, and estate sales are all good sources for antique inkwells, although people should be careful to evaluate antiques before purchase to ensure that they are genuine. For people who just want an inkwell, rather than a conversation piece or work of art, an art store is the best bet, although small jars like those used to hold condiments can also be quite useful in a pinch.
Inkwells held ink for pens that needed constant refilling, like quill pens.

Ink wells were commonly used prior to the 20th century.

Antique inkwells are collected by some people.