An herbal bath is like a big cup of tea for the entire body. It is a small sachet, usually made from cheesecloth, that is filled with aromatherapeutic herbs. The herbs included are often lavender, lemongrass, sage, and chamomile. Many other herbs are also used, but these are some of the most common.
There are a number of ways to enjoy an herbal bath. The most common way is to simply add the sachet to a bathtub full of hot water. The herbs will slowly steep in the water. Alternatively, the herbs can be added to a pot of boiling water, steeped, and then added to bath water. This will allow for a more strongly-scented bath.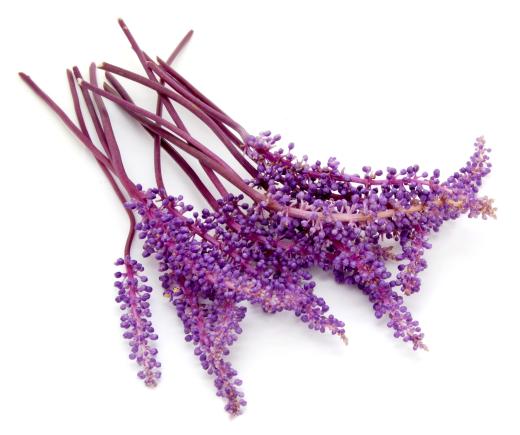 Even those without a bathtub at home can enjoy an herbal bath. Simply steep a sachet in a pot of hot water, and place the pot on a steady ledge in the shower. Be sure to use a shatter-proof pot or similar container. During the shower, sponge or pour the liquid over the skin, making sure that it has cooled enough so that it will not burn or scald the skin.
It is quite simple to make an herbal bath sachet at home. Simply take a small square of cheesecloth, place a few spoonfuls of aromatherapeutic herbs in the center, and tie it off with a string. Depending on the desired potency of the scent and the volume of the bathtub, the amount of herbs necessary will vary.
An herbal bath is a good substitute for those who have allergies to the ingredients in most bath gels and bubble bath solutions, or for those who simply prefer not to include such products in their bath water. In fact, some ingredients that are commonly used in sachets can help to soothe sensitive or troubled skin. Chamomile, for example, can be very soothing for the skin. Furthermore, the herbs in a sachet will not dry out the skin as the ingredients in some bath gels might.
There are a number of health and beauty companies that carry herbal bath sachets in their product lines. Many companies that sell bath gel also sell these kinds of sachets. Purchasing some of these pre-packaged sachets is a great way to discover pleasing scents and scent combinations that can later be replicated at home.
AS FEATURED ON:
AS FEATURED ON:

By: Kimberly Reinick

Lavender is a favorite additive in bath products due its pleasant and relaxing scent.

By: olly

Herbal baths can be relaxing.

By: Africa Studio

Even people without a bathtub can enjoy herbal baths by sponging the liquid over the skin.

By: Gennadiy Poznyakov

An herbal bath is a good substitute for those who have allergies to the ingredients in most bubble bath solutions.