What is an Entrance Lock?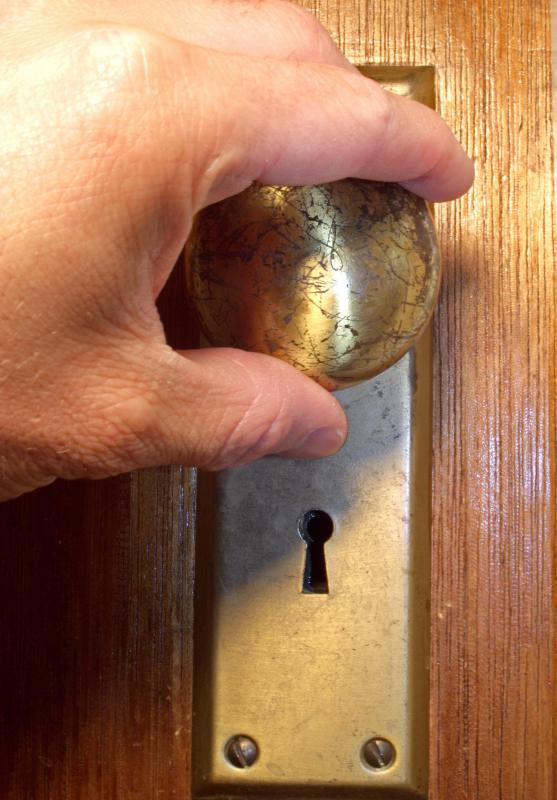 An entrance lock can refer to any lock on a door entrance. This could be a sliding door that leads to a backyard, a front door of a home, or a lock in front of an office. There are a couple of different types of these locks, and preference for them may depend on type of door, appearance desired, and needed security.
Most of the time an entrance lock is open or locked with a key, but sometimes this is not the case. There can be doors that open only by inputting a security code or personal identification number (PIN). In hotel rooms, many times the entrance operates by inserting a card into a nearby space, and this a called a key card. This same method of opening doors could be used in businesses that require certain levels of security to enter various part of the building. Key card entrance could be at doors marking an entrance or they might be at many different doors or sections of a building.
Less technical approaches to the entrance lock have been in existence for a long time. Some of the simplest call for the key to be inserted into the entrance side of the handle. When properly inserted and turned in the right direction, the lock on the other side unlocks easily, or with difficulty if the lock or key are in poor repair. Simple door handles are easy to find, and many can be uncomplicated to install if the latch fits easily into the latch plate. Without this feature some cutting of the door or adjusting of the plate may be necessary for a good fit.
Sliding doors usually have an entrance lock that accepts a key. On the other side there is a single handle, which when pushed up or down locks or disengages the lock. Many people add additional safety elements to sliding doors, since they are notoriously easier to open without a key. There are small bars, screw on devices and other things that provide a second defense against burglars. Of course, sliding doors are usually made of glass, and though heavy, it is still more fragile than most metal or wooden doors.
Another type of entrance lock people mention is not attached to the handle of a door. This is the deadbolt, and sits higher up on the door providing an extra level of security. Many people have two locks on their doors, which may or may not be opened with the same key.
The deadbolt is one of these two locks, and like security devices on sliding doors, it helps to provide extra resistance against break-ins. People may also add chains to the inside of their door, but these can prove problematic if a person with a right to enter the home can't get in because the door is chained. Also, the chain cannot be closed from the outside. To engage it's necessary to leave the home by another exit.
By: William Ceron

Some entrance locks call for a key to be inserted into the entrance side of the handle.

By: Robert Hoetink

Some entrance locks are easier for burglars to break into than others.