What is an Elevator Mechanic?
An elevator mechanic is a person who installs, repairs and maintains elevators, escalators, moving walkways, conveyor belts, and dumbwaiters. He is also commonly required to upgrade older models of these machines to make them more efficient and modern. His work may take place in any type of structure from single level buildings to high-rises.
If a new elevator system is being installed, an elevator mechanic normally reviews the schematics of the equipment and the blueprints of the building before beginning the installation. He customarily proceeds to attach the rails that guide the enclosure to the walls of the shaft. After he installs the elevator car along with its roof and floor, he usually attaches the cables and installs the electrical components. At the conclusion of the installation, he is generally required to thoroughly test the elevator and ensure its safe operation before it is introduced for public use.
Elevators and other hydraulic equipment typically have regularly scheduled preventive maintenance programs that are regulated by local or regional public safety agencies. Certificates indicating the last inspection date as well as the next scheduled inspection date are commonly prominently posted on the equipment. An elevator mechanic is generally required to track these dates and make sure inspections are completed on time.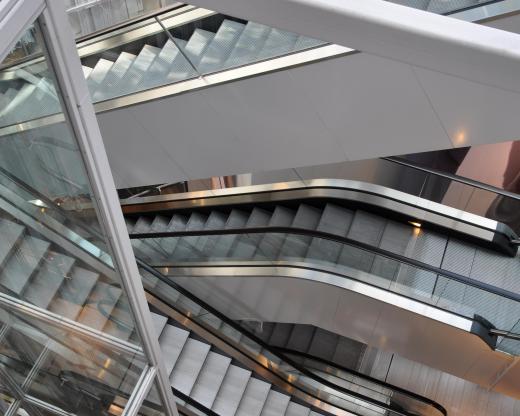 In between scheduled preventive maintenance, an elevator mechanic is frequently expected to perform general maintenance of the machines to keep them running smoothly and quietly. This usually entails oiling and greasing the moving parts. Replacing electrical components and lights that indicate floor levels is a normal part of the job, as is regular testing of the emergency stop buttons and the car's internal communication system. Major malfunctions often necessitate the replacement or fine-tuning of buffers, counterweights and cables. Brakes, bearings and drum sheaves are other common parts that often need the attention of an elevator mechanic.
To be a competent elevator mechanic requires an excellent understanding of electrical system integration and hydraulics. Being able to easily interpret diagrams and drawings is also important. Proficiency in using hand and power tools and reading gauges and other measuring devices is typically required. Attention to detail is required to maintain maintenance schedules and prepare incident and repair reports.
This position generally requires a high school diploma or equivalent, preferably accompanied by coursework in electricity or mechanical systems. Two years education at a trade school or completion of an apprenticeship program along with a partial high school education may be acceptable to some employers. Any experience in the repair or maintenance of hydraulic or electronic lifting or moving equipment is desirable.
AS FEATURED ON:
AS FEATURED ON:

By: Carsten Reisinger

Elevator mechanics are called upon to do everything from installing to repairing elevators.

By: Petrus

Elevator mechanics are typically also involved in escalator repair.

By: Lisa F. Young

Becoming an elevator mechanic may require two years education at a trade school.

By: monticellllo

An elevator mechanic may be responsible for repairing dumbwaiters, which may be used to carry food from one floor to another.