An ATM (Automatic or Automated Teller Machine) is a computerized machine designed to dispense cash to bank customers without need of human interaction. The ATM can also take deposits, transfer money between bank accounts and provide other basic financial services.
Most banks feature one or more "on premises" ATMs so that customers have access to services 24 hours a day, seven days a week. During banking hours the ATM can reduce long lines inside the bank by providing an alternative to a human teller. Even better, the ATM continues to be available long after the bank is closed. If you need cash in the evening, on a holiday or Sunday, the ATM is there to serve.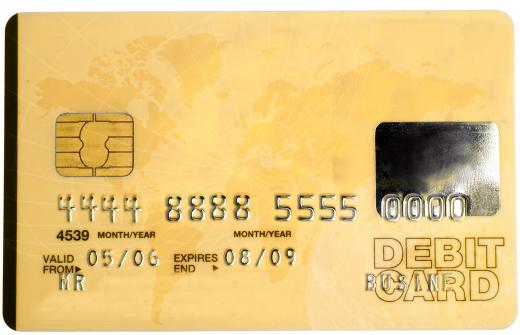 To use an ATM, the customer feeds it a bankcard, sometimes called a debit card. This resembles a credit card but is issued from the bank to use with an ATM. Once the machine reads the magnetic strip on the card, it requests a personal identification number, or PIN. The PIN provides security in case the card is lost or falls into the wrong hands.
Upon entering the associated PIN correctly, the customer will see a list of choices on the ATM screen. Through touch-screen or buttons, the customer navigates through the ATM screens to complete the desired transaction. If the customer chooses to withdraw cash, the cash is dispersed through a feeder slot. If making a deposit, the customer feeds the deposit envelope into a deposit slot when cued by the machine. Receipts are optionally printed for the customer, but the ATM retains a record of all transactions. Tied into the bank's computer system, the ATM can automatically deduct withdrawals or add deposits to the customer's account(s).
Many banks do not charge a fee to customers for using their own ATMs. However, if you withdraw cash from an ATM that does not belong to your bank, you will likely incur transaction fees. ATMs normally have posted information about non-customer fees, though this will not include fees that your own bank might charge.
Patents for ATMs were reportedly filed as early as the 1930s, but the first actual ATM is credited to Barclays Bank of London in 1967. The latest incarnations of these now-ubiquitous machines include Linux and Microsoft-based screens, and talking ATMs for the blind.
AS FEATURED ON:
AS FEATURED ON:

By: Andres Rodriguez

Many banks allow checking account holders to access their funds with a debit card at an ATM.

By: WavebreakmediaMicro

An ATM may be used to dispense cash to bank customers.

By: Claudio Divizia

ATM read a bank card's magnetic strip.