An automated teller machine (ATM) card is a card issued by a bank, credit union or other financial institution for the purpose of conducting monetary transactions. These cards are normally utilized only at ATM machines, but sometimes are used even when a live person renders service to the cardholder. Similar in appearance to credit cards, ATM cards are ubiquitous in many countries around the world.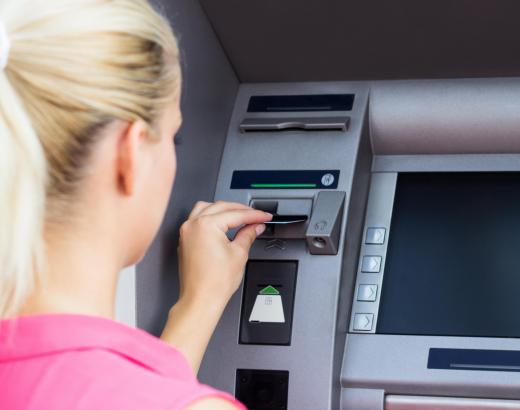 An ATM card is usually presented to the customer of a bank or other similar business when a new account is opened. This typically is done free of charge, regardless of the type of account. In case of theft or damage, replacement cards also typically are provided without cost. In many cases, a new card will automatically be sent to the client to replace an older one that might be wearing out.
One key feature of an ATM card is the personal identification number (PIN) that the user creates. The PIN is a series of four to seven digits selected by the customer. For nearly all transactions, these numbers are required for the card to be used. The card's owner knows the sequence of numbers to enter and other people do not, so the PIN serves a strong deterrent to unauthorized use of the card.
There are many benefits to ATM cards. Their primary asset lies in making banking convenient for the customer; simple transactions such as deposits, cash withdrawals and funds transfer are easily and quickly accomplished with their use. The cards also can function as a handy form of identification when doing business with the issuing company. ATM cards also enable much quicker transactions than would be possible with live tellers, saving banking-related businesses time and large amounts of money of each year.
One of the most popular ways ATM cards are employed is in the purchasing of goods and services. Many stores allow their customers to use their ATM card as a form of payment, deducting the funds directly from a bank account at the time the purchase is made. This function has resulted in the cards sometimes being referred to as debit cards. In a similar manner, an ATM card can be branded with a credit card logo, but this depends on the bank, the laws of the country where the card was issued and the customer's credit history. With these logos, however, ATM cards can be used wherever credit cards are accepted.


By: NatUlrich

ATM cards can allow carriers to make purchases without cash.

By: sanjagrujic

ATM cards are issued by banks and financial institutions to make banking more convenient for its customers.

By: WavebreakmediaMicro

ATM cards are secured with a PIN, ensuring only the cardholder can make transactions.