What is an Academic Dress?
Academic dress is the traditional attire of those studying in school. The dress consists of a gown, hood, and cap. Academic dress, also sometimes called academic regalia, is usually only seen at graduations.
The origin of academic dress as seen in the United States and Britain is the same. The British universities Oxford and Cambridge are credited as the creators of the style. Although this may be true, each country has its own system in place to distinguish varying levels of degrees and majors.
In the American and British tradition, the gown is similar in makeup for all degrees. It commonly zips in the front, extends to below the knees, and has long, convex sleeves. In the Unites States, the sleeves vary slightly in shape for degree levels. The gown worn by those earning bachelor's degrees has slightly pointed, and comparatively longer sleeves, while the one worn by master's level graduates has crescent-shaped ones. The doctoral gown is distinguished by its wide sleeves and velvet trim, which is featured around the garment's neck and down its front.
The hood used in academic dress was once a functional part of the clothing, but has since been relegated to a primarily decorative piece. At some universities, the hood grows in length with the advancement of degrees. At others, only master's and doctoral candidates are able to wear the hood. Its color varies depending on the type of degree program that the candidate pursued, such as white for English and pink for music. Sometimes, a university chooses to add a band of velvet to the hood, and this can widen with advancing degree levels.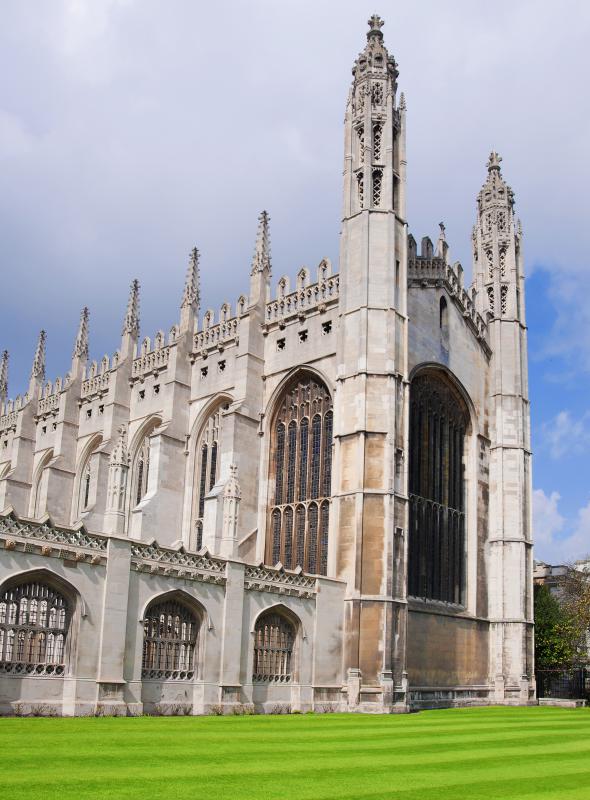 The final component of academic dress is the cap, also called a mortarboard. It is placed squarely on the head with the board parallel to the ground. Sometimes it can be seen worn towards the back of the head, but this is not the standard, approved look. A silk tassel usually connects at the top of the cap, and hangs down to one side of the face.
In many United States traditions, the tassel is flipped from one side to the other, once a degree is conferred, but the exact placement of it varies depending on specific school tradition. The most predominant tradition is for it to be worn on the right side of the head until until confirmation, then switched to the left side. Some universities will ask for the opposite, or will vary the direction depending on what level of degree is being awarded.
A student in academic dress.

A diploma and mortarboard.

Oxford and Cambridge are credited as the creators of the academic style of dress.

Academic dress is commonly worn at graduation ceremonies.