Amla shampoo is a hair cleanser that typically contains varying amounts of amla oil, which comes from the amla fruit of the Indian gooseberry tree. Many people believe that this shampoo will make their hair healthier and shinier and possibly prevent graying due to the high levels of antioxidants and vitamin C amla contains. Amla shampoo is typically found for sale at health food stores and can also be purchased online.
Some people apply amla oil directly to their hair instead of using amla shampoo. The oil is typically applied either right before the hair is washed or at bedtime so the hair can soak in the full benefits of the oil during the night. Rubbing amla oil directly into the scalp may prevent dryness and flaking while also improving the circulation of the scalp. The improved circulation could be beneficial to people who suffer from hair loss, because increased scalp circulation might stimulate hair growth. People with extremely oily hair may prefer to use amla oil as a conditioner by rubbing it into the ends of the hair after washing with their regular shampoo.
In some cases, very dry and brittle hair is related to a deficiency in vitamin C. Amla shampoo and other products containing amla usually contain lots of vitamin C, and regular use could possibly make the hair look healthy and feel shiny again. Some people prefer to take amla supplements rather than use amla hair care products. Taking amla internally is a more direct method of sending the body the vitamin C it needs, and as a result may be a better method of improving the look and health of the hair.
Amla also contains lots of antioxidants, which help to repair cell damage. They may also slow down the speed at which cells age. Many people believe that using amla shampoo could keep hair from turning gray or white because of the high antioxidant content. This is not a guaranteed benefit of using amla shampoo, but healthier cells in the scalp may lead to healthier hair in general.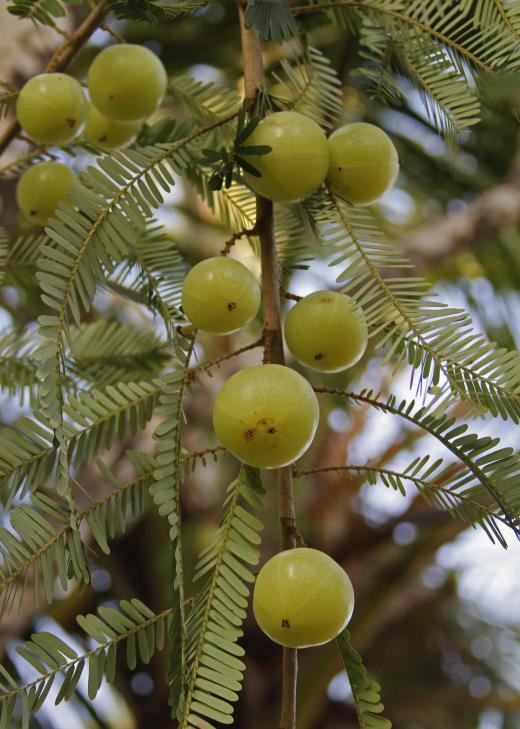 Frequent shampoo usage is typically necessary for most people to keep their hair clean, but it could also make the hair less healthy over time. Many types of shampoos contain harsh chemicals that are likely responsible for the damage caused by regular shampooing. Using an all-natural shampoo containing few chemicals and lots of amla may help to offset this damage for many people.
AS FEATURED ON:
AS FEATURED ON:

Gooseberries, one of the main ingredients in amla shampoo.

By: Ziablik

Amla shampoo may help promote healthier hair.

By: Yogesh More

Amla fruit grows on the Indian gooseberry tree, also known as the amalaki tree.

By: Africa Studio

Amla shampoo is typically found for sale at health food stores and can also be purchased online.