Aloe lip balm is a cosmetic product designed to soften and moisturize the lips. It generally contains either the gel or the juice from the aloe vera plant, a succulent plant native to the Middle East that is cultivated around the world for medicinal use. Aloe is widely regarded as a healing plant, though there is much dispute within the medical community with respect to what the plant's healing properties actually are, as well as the concentrations of extract needed to realize results. Just the same, aloe is a very common addition to a range of cosmetics products, lip balms included.
Most lip balms are wax-based solutions that are meant to be spread over the outer surface of the lips. The wax, often beeswax or cocoa wax, seals in moisture while protecting the skin from chapping and environmental irritants. Manufacturers often add aloe in order to improve the balm's healing properties. Aloe lip balm often promises to be ultra-moisturizing, to soothe chapped lips, or to ease the pain of sunburned lips, among other things.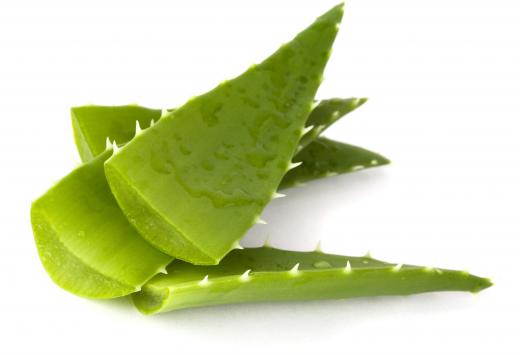 How much aloe is actually included in an aloe lip balm — and what sort of aloe, at that — is rarely set out on the label. In most places, cosmetics labeling is not tightly regulated. So long as a manufacturer discloses the general ingredients, it is usually in the clear. This means that any lip balm with even trace amounts of aloe can properly be marketed as aloe lip balm most of the time.
Aloe vera juice is the most common extract used in aloe lip balm. Nearly all parts of the aloe plant can be useful for different purposes. When the leaves are first split open, for instance, the plant oozes a gel that is commonly believed to heal the pain of burns when applied directly to the skin. The leaves themselves can be pulverized to extract a juice with similar properties.
The gel is often sold on its own, but most aloe vera lotion and other skincare-related aloe vera products are made from more concentrated extracts. Juices are usually easier than gels to emulsify in cosmetics products. They tend to be less expensive to produce and obtain, as well.
Many aloe vera lip balm manufacturers pair aloe's moisturizing properties with sun blocks in order to sell a product that both heals and protects. Aloe has many benefits, but sun protection is not usually considered one of them. Including a sunscreen in with the aloe and other ingredients often makes the product more attractive. Additions like flavors and scents are also common.
AS FEATURED ON:
AS FEATURED ON:

By: cedrov

Leaves of the aloe vera plant.

By: Nazzu

Some lip balms contain aloe.

By: Artem Furman

Aloe lip balm seals in moisture.