Almond bark is a confection created by combining melted chocolate with toasted almonds. While some recipes call for the use of chopped almonds, others utilize sliced almonds or even whole almonds that have been dry roasted to enhance their flavor. The chocolate is melted, usually with a small amount of fat, and then combined with the roasted almonds and allowed to set or harden before cracking or cutting into pieces. Almond bark can also refer to pieces of confectionary coating similar to chocolate made using vegetable fat rather than cocoa butter, which is often used in baking.
While the term almond bark can be used to refer to two different things, in terms of recipes it is often used to refer to the confection that is made and served. This begins with almonds that are chopped, sliced, or left whole, depending on the preference of the creator. The almonds are placed in a shallow pan and slowly dry roasted over heat until they begin to turn brown. This enhances the flavor of the almonds by releasing oils within them, providing a richer, more intense almond flavor for the bark.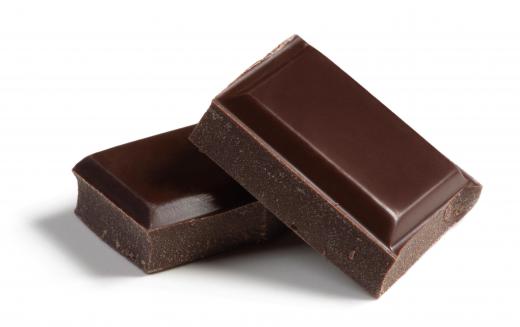 Once the almonds are roasted lightly, they are set aside to cool and the chocolate for the almond bark can be prepared. The type of chocolate used often depends on the type of almond bark a person is trying to make. White chocolate is often used for this confection, though milk chocolate and dark chocolate can work just as well. The chocolate is typically combined with a small amount of fat, often butter or vegetable shortening, and melted in a microwave or double-boiler.
This melted chocolate is then combined with all or most of the roasted almonds and poured into a pan or dish that is greased or lined with parchment paper. Remaining almonds can be sprinkled onto the top of the almond bark. It is then placed in a refrigerator and allowed to cool and harden, before being cut or cracked apart into pieces for serving.
Almond bark can also refer to individual pieces or blocks of flavored coating that are often used for serving or melting in preparing other confections. This coating typically resembles white or milk chocolate and is usually made with vegetable fat instead of cocoa butter, which can make it more affordable though less strongly flavored. Such bark is often used in making the confection referred to as "almond bark," which can make the usage of the term potentially confusing for some cooks.


Almond bark can be made in a microwave.

By: Dmitry Rukhlenko

Almonds.

By: Andris T

Chocolate is melted and combined with almonds to make almond bark.