Alfalfa, a member of the pea family, is a plant said to have numerous health benefits such as antioxidants, iron, fiber, protein and phyto-estrogen. An extract refers to a raw material taken, or extracted, from a particular substance. Alfalfa extract is commonly made from the leaves of a mature alfalfa plant and sold as a pill or tincture, which is a solution of the raw material, water and sometimes alcohol. Nutritionists and health stores often tout the supposed wonders of alfalfa extract, which may lower cholesterol, alleviate pain from various different causes and help relieve symptoms of menopause.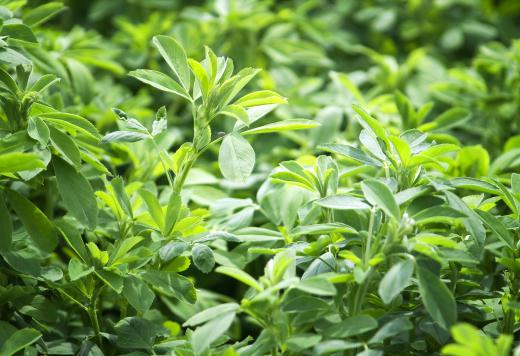 Many take alfalfa extract as a dietary supplement, as it has naturally high levels of protein, fiber and vitamin A as beta-carotene. It is believed that alfalfa has been used in medicine for over 1,500 years to treat upset stomach, bladder problems and kidney problems. Irregular menstruation, arthritis pain and even boils may also benefit from the extract. Its modern uses are quite similar to the medicinal uses of long ago.
The many manufacturers of the product point out countless more possible health issues that the extract may help treat. They include colon health, relief from fluid retention and swelling, guarding against kidney stones and general cleansing and nourishment for the skeletal and glandular systems. Those who are anemic could also benefit from the supplement due to its high iron content.
Now a fairly common nutritional supplement, alfalfa extract can be found at several stores. Individuals should note that the potency and performance of supplements can vary between manufacturers; the least expensive form of alfalfa extract could be made from weaker parts of the plant and may include seeds. The most powerful alfalfa extract is made from the nutrient-rich leaves. There are supplements available that include not only alfalfa, but other beneficial vitamins and minerals made from the extract of other plants as well. Choosing a dietary supplement that combines alfalfa with other complementary supplements such as gingko biloba may pack a stronger nutritional punch.
While recommended use of extracts varies based on the content of the chosen pill or tincture, several makers of the supplement suggest that one take alfalfa extract one to three times daily, generally with a meal. One of the advantages of using natural drugs is that patients often have far fewer side effects than those using drugs manufactured in labs to treat specific ailments. Consulting a physician or nutritionist about adding dietary supplements, however, is usually a safe idea.


By: voraorn

Alfalfa is a member of the pea family.

By: Sunny Forest

Alfalfa extract is commonly made from the leaves of an alfalfa plant.

By: p6m5

Alfalfa extract may help to guard against kidney stones.

By: rob3000

Alfalfa extract is said to help relieve symptoms that accompany menopause.

By: matka_Wariatka

Women with irregular menstruation may benefit from alfalfa extract.