What is Adventure Travel Insurance?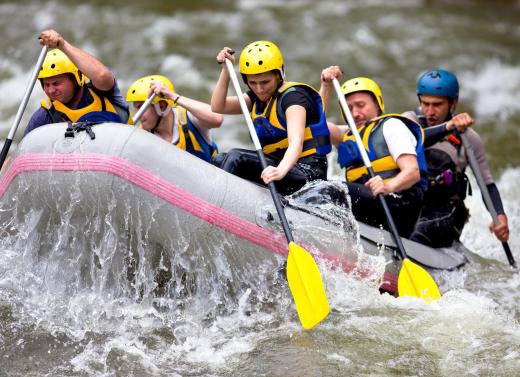 Adventure travel can be a deeply enriching experience to embark upon. The price for a daring adventure, however, entails significant risk. Even if a traveler is healthy and believes that nothing could interrupt his or her dream adventure, uncontrollable circumstances can occur, such as food poisoning, sunstroke, traffic accidents and robberies. Accidents and illnesses could happen anywhere at any time, particularly if the traveler remains unprepared. Adventure travel insurance can reimburse travelers for any costs incurred because of the potential dangers that come with the risks of travel.
Whether a trip lasts two days or two months, adventure travel insurance can offer the protection a traveler needs. Travel insurance can be arranged when booking the trip. If one is searching for adventure travel insurance, he or she might have to wait until after the booking to purchase travel insurance. A more comprehensive and specific option is typically purchased separately and at a later time.
Travel insurance companies or travel agents sell adventure travel insurance. The most common risks covered by travel insurance include medical expenses, emergency evacuation, overseas funeral expenses, accidental death, injury or disablement. Cancellation, curtailment and delayed departure also can be covered. Other coverage includes protection against the loss, theft or damage of possessions or money. Delayed baggage, legal assistance and personal liability can be included.
Some adventure travel insurance policies are specifically geared toward travelers who plan on engaging in adventure sports. These adventure sports include mountaineering, mountain biking, kayaking and rafting. Aspects that can influence the cost of travel insurance include age, the cost of the trip, the time of travel and the destination.
Adventure travel insurance can cover trip cancellation, interruption or delay; medical expenses; emergency evacuation; and lost or delayed baggage. Travelers should always read the fine print to find out what is actually covered by the adventure travel insurance policy. Some travel insurance policies might cover one thing while another insurance policy does not.
If a person is traveling to a remote location, an important area to pay close attention to when searching for travel insurance is coverage for emergency medical air evacuation. Being insured for air ambulance transportation is ideal for those traveling to remote locations where there are no medical facilities nearby. Some adventure travel companies actually make medical evacuation insurance a mandatory requirement for travelers visiting remote locations.


By: VILevi

Travelers engaging in adventure sports, such as whitewater rafting, may purchase adventure travel insurance.

By: varandah

Some travel insurance protects against loss of or damage to baggage during transit.