What is Administrative Assistant Management?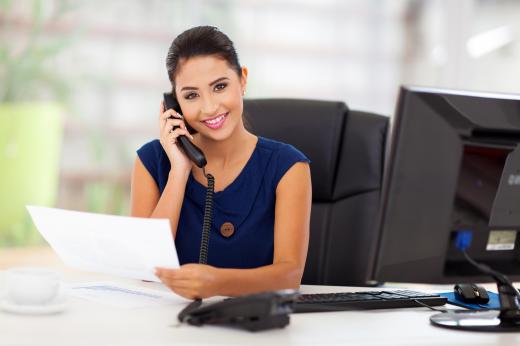 Administrative assistant management is a job position where the person supervises the secretaries and administrative staff of a business or company. Alternately, it may also describe the role of an individual administrative assistant. Employees in this position provide support to various managers and executives in companies. Activities can range from answering phone calls and taking messages to typing up correspondence and scheduling appointments for the professionals being supported.
Employees in the role of administrative assistant management typically work at a supervisory level, and act as mentors for the administrative assistants on staff for the business or company. This entails scheduling the hours and work roles of each of the assistants. For example, if one of the administrative assistants that supports two of the executives in the business is going on vacation for a week, then those in administrative assistant management are responsible for making sure the two executives have administrative support.
In addition to scheduling, training is another important factor that administrative assistant management entails. Administrative assistant classes, courses and workshops allow managers to cover important topics, issues and trends with the assistants that can help them to perform their jobs better. This involves researching learning and training opportunities, as well as scheduling the training and making any additional arrangements.
Hiring is another facet of the position. When additional secretaries or administrative staff needs to be hired, the manager in this area posts job ads, fields resumes and schedules interviews. The manager may also be involved in interviewing candidates as a pre-screen for the individuals the administrative assistant will work for directly.
Administrative assistant management also requires a manager to act as the liaison between the assistants and the individuals they work for, in case issues arise. Personality problems, disputes and disagreements between assistants and their bosses can and do occur. When this happens, the management side of the administrative assistant business requires the manager to mediate and help to resolve issues.
The job description for administrative assistants can vary. Some assistants simply answer phones and manage their boss's schedule. Others are more involved in the business, some pre-selling or pre-screening or performing similar job tasks that their bosses do. Managing the role as an administrative assistant rather than managing a pool of administrative assistants requires that an employee match their characteristics, experience and personality traits with the job responsibilities and the person for which they will be working.


By: michaeljung

Administrative assistant managers oversee the work of administrative assistants.

By: Rido

An administrative assistant may be responsible for scheduling executive meetings.

By: Rido

An administrative assistant may have a role in interviewing job candidates.