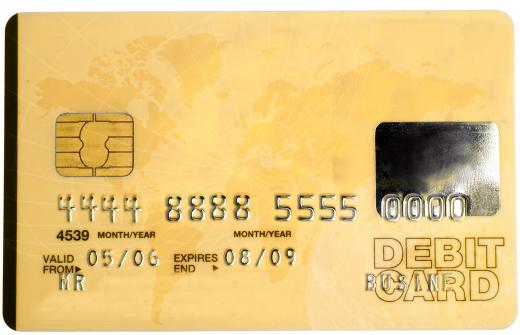 ACH stands for Automated Clearing House. This system provides for the transfer of funds directly from a checking or savings account to a third party. ACH debit helps businesses to get paid quickly, with a minimum of problems and errors. It is often used to simplify and speed up the bill-paying process, benefitting both the payer and the payee.
ACH debit is used by some businesses instead of accepting debit or credit cards. In order to process an ACH transaction, the account owner must provide a bank routing number and the account number. The recipient then uses the Automated Clearing House system to process the debit, removing the money from the bank account and transferring it to the business instantly.
Employers often use the ACH system to set up an automatic payroll deposit to the employee's bank account. Although this is not a debit for the employee, it does represent a debit to the employer, and is handled in much the same way as any other ACH transaction. The efficiency of the ACH system allows users to get money deposited in a bank account as soon as it is released by the employer. This represents a substantial savings in time to the employee, as he or she doesn't need to make a trip to the bank and wait in line to make a deposit. It helps employers by eliminating the need for paper checks and by keeping employees from dashing to the bank at lunch time or leaving early after work to beat the crowds making payday deposits.
ACH debit is commonly used to pay recurring bills directly from a bank account. Bills often set up with a recurring ACH debit are monthly bills that don't vary much in size, including cable, mortgage or rent, monthly tax payments and trash pickup. Variable bills such as electricity, gas and water may also be paid with an ACH debit, if desired. The account owner is always notified of the transaction amount at the time of the transaction, and normally is informed well in advance of the money being debited.
Businesses may use ACH debit as the only means for customers to make payments other than by check or in cash, but most often this method is used in addition to other methods, such as credit and debit cards. By providing as many payment methods as possible, a business can help to ensure that payments are received in a timely fashion. Adding ACH as a payment method allows people who don't have or don't want to use credit or debit cards another safe, secure, and fast way to pay.


By: Andres Rodriguez

Many banks use ACH to manage debit card transactions.

By: darko64

ACH debit is commonly used to pay recurring bills directly from a bank account.