What Is a Yellow Squash Casserole?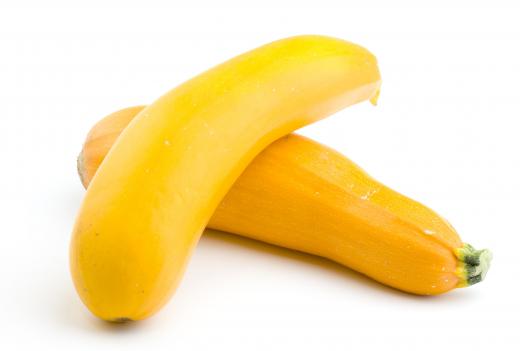 A yellow squash casserole is a baked dish in which the primary ingredient is yellow squash. A wide variety of recipes exist to prepare this type of dish using as many, or as few, ingredients as the cook prefers. These recipes can be found in cookbooks, cooking magazines, the Internet, or can be created by scratch by the cook based on those foods which are already at hand.
The term casserole can be applied to any dish which is baked in a hot oven at a relatively low temperature for a set period of time. The dish used to prepare this type of meal is typically deep and can hold between two and five quarts (1.8 to 4.7 liters) of food. A lid is often used to hold moisture inside of the dish, utilizing the moist heat as a cooking element.
The yellow squash should first be sliced before adding it to the other ingredients. The recipe may require that the squash slices then be boiled for several minutes and drained before placing them in the casserole dish. This step can often be eliminated by those who prefer a crispier crunch to their vegetables in their yellow squash casserole.
The squash may be combined with sliced onions, sliced carrots, and chopped celery. All ingredients should be blended together thoroughly with a binding agent. This binding agent may take the form of a condensed soup, such as cream of mushroom or cream of cheddar, or mayonnaise. The binding agent may also be crumbled crackers tossed together with butter and cheddar. When using these types of ingredients, however, it may be beneficial to pour a small amount of chicken broth or milk into the yellow squash casserole to keep it moist.
The blended ingredients are typically topped with a type of crunchy food that browns slightly during the baking process. The crunchy topping may be any remaining cracker crumbs tossed with butter, or french fried onion strings. Additional pats of butter may be placed on top of the crunchy topping to add flavor, moisture, and encourage browning during the last five minutes of baking.
Protein can be added to this dish by including ground sausage or turkey. The meat should be cooked prior to adding it to the yellow squash casserole. It can be combined with the other vegetables during the cooking process, and blended with the binding agents prior to baking.


By: web2000ra

Yellow squash is a key ingredient in squash casserole.

By: zigzagmtart

There are several varieties of yellow squash a cook can choose from.

By: mrslevite

Yellow squash casseroles may feature zucchini, ground meat and cheese.