What is a Workout Skirt? (with pictures)
A workout skirt, also known as an exercise skirt or fitness skirt, is a short skirt designed for women to wear when exercising as an alternative to shorts. Some women who wear workout skirts believe that they are more flattering and more comfortable than shorts or capris, yet are just as functional for activities such as walking, jogging, hiking, or playing tennis. A workout skirt may also be worn when working out on fitness equipment at the gym, such as the treadmill or elliptical.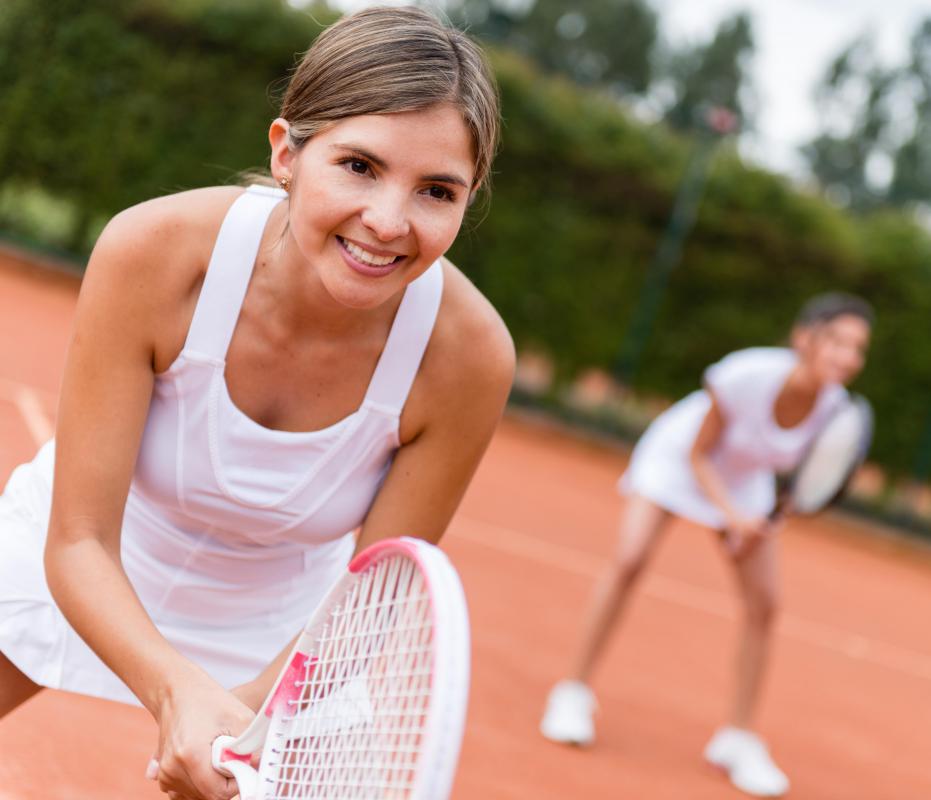 There are a few different designs of workout skirts available. Most are designed so that the waistband sits slightly above the hips, and the skirt falls to about thigh-length, above the knees. Some are simple skirts without any undergarments sewn in, but these are slightly less common because they can be somewhat impractical when exercising. One very common type of workout skirt is also referred to as a "skort," and this piece of clothing has a pair of form-fitting shorts sewn in.
With this design, the wearer gets the flattering shape of a skirt without needing to worry about any wardrobe mishaps. Another type of workout skirt has a pair of briefs sewn in, which are sometimes referred to as bloomers. One might choose this type of workout skirt to avoid any potential chafing from shorts, but again to prevent any wardrobe mishaps.
Some workout skirts are designed to be more fitted and fit straight down the legs, while others are designed in a more A-line shape and will flare away from the thighs. Neither style is necessarily preferable to working out. The choice depends on the type of exercise that will be done in the workout skirt, as well as body type and comfort level in the skirt.
Workout skirts are generally made with materials similar to any piece of fitness clothing, and are designed to be able to stretch and to wick moisture away from the skin while working out. Some skirts also feature pockets for storing items such as an MP3 player or power bar, and others include belts to hook items onto. Workout skirts may be purchased online or in most fitness and clothing stores; it may be best to try a few different styles on in order to choose the one that looks best. Some people find that a workout skirt is not for them, and instead prefer to wear shorts, capri workout pants, or looser workout pants for more comfort.
A tennis skirt could be considered a workout skirt.

Many tennis skirts come in crisp white, the traditional color at Wimbledon.