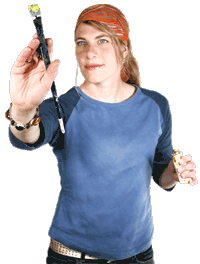 A wing needle is a sewing machine needle used to achieve an eyelet effect for craft projects, also referred to as an "heirloom affect." The two small flanges on the left and right of the needle create a hole in the fabric by separating the fibers, and the hole is held open by the stitching. The name of the needle comes from its distinctive appearance, and wing needles come in a variety of sizes designed for different projects and weights of fabric. The larger the size of the wing needle, the larger the resulting hole in the fabric will be.
A wing needle can also be referred to as a "hemstitching needle," because it is often used on hems and borders. These needles are commonly used to create decorative patterns on the edges of sheets, pillow cases, towels, handkerchiefs, and other household goods made of tightly woven fabrics such as linen and cotton batiste. Natural fibers are most suited to this heirloom effect. Many machine embroidery patterns incorporate the wing needle into their instructions.
When doing machine embroidery with a wing needle, it is strongly recommended that an open toe embroidery foot be used in combination with a zigzag throatplate so that the craftsperson can clearly see the work. In some cases, it may be necessary to go over the work again, especially with a larger wing needle, in which case the sewer should not adjust the stitch length or width, but leave the wing needle in the last stitch, lift the presser foot, and rotate the work so that the wing needle will go through the previously made holes. Depending upon the manufacturer, different sewing machines have different optimal stitch and tension settings for heirloom stitches. Refer to the manual for your sewing machine and use a test swatch before embarking upon an heirloom project in order to achieve optimal results.
Woman painting