The term "utility audit" is used in several different ways. It can refer to an audit of the metering and billing practices at a utility to confirm that they are accurate and that customers are not being defrauded or otherwise taken advantage of. Utility audits can also be inspections of homes undertaken to determine how efficient they are, with the intent of increasing energy efficiency to lower energy use, thus saving money on utility bills.
In the first sense, a utility audit may be be mandated by regulators which are concerned about billing practices, or it may occur in connection with a suit or claim charging that a utility is engaging in sloppy accounting or other bad business practices practices. During the audit, metering devices will be inspected, metering practices will be observed, and the utility's billing practices will be examined to confirm that customers are being billed appropriately. A utility audit may uncover things like bill padding, billing at improper rates, and other practices which are not legal and result in higher bills for customers.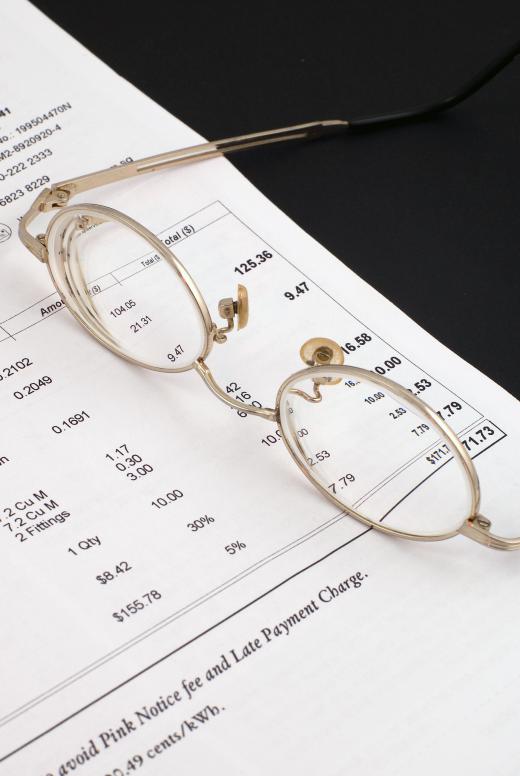 In the second sense, utility audits are provided as a service to people who want to reduce home energy usage. Many utilities offer free audits for their customers, in which a utility employee will check a home for obvious areas of potential improvement, such as replacing dripping taps or applying weatherstripping to the windows. Sometimes government agencies also offer free home energy audits, especially to people of low income.
It is also possible to hire a firm for a utility audit. Consulting companies can conduct detailed inspections and tests which are designed to identify potential sources for energy waste. At the end of the audit, a list of findings will be drawn up so that a homeowner can identify areas of concern. The list also includes recommendations of steps people can take to reduce their energy usage. Notations of savings are provided so that people can do a cost/benefit analysis; some modifications to save energy, for example, can be very costly and may not actually achieve that much in terms of energy savings.
Getting a utility audit can save money in the long term by helping people identify areas in which their energy usage may be excessive and could easily by modified. It can also be beneficial for the environment, as audits result in less of a demand for energy. Some utility audits also focus on immediate environmental issues, such as light and noise pollution, which people can address by changing things in their households.
AS FEATURED ON:
AS FEATURED ON:

By: Alvin Teo

A utility audit can be undertaken by a utility company to assess the energy efficiency of a home or be conducted on a utility company itself.

By: Le Do

Switching out aging appliances for newer, energy-efficient models helps reduce energy usage.