What is a Typhoid Vaccine?
A typhoid vaccine refers to either an oral or injected vaccination that can help reduce the risk of getting typhoid fever, which is caused by exposure to Salmonella Typhi, a bacterium. While this risk tends to be minimal in most developed countries, in developing countries it is more common to acquire typhoid. People planning to travel outside of their country should discuss with a physician whether the areas they plan to visit might have an increased risk for contracting this illness. Should risk be elevated, getting the typhoid vaccine may make good sense.
There are two types of vaccination. One is taken orally in pill form over eight to ten days. A total of four pills are taken to provide some typhoid fever protection, although protection is not 100%. The oral typhoid vaccine is a live attenuated version of Salmonella Typhi and the pill is not recommended for people who are under the age of six, or for those with any type of autoimmune disease or compromised immune system. There is a slight risk of contracting the disease from the pill, though this is rare and might most often occur if people do have an autoimmune disease. This form of the vaccination tends to confer immunity for approximately five years and vaccination must occur at least two weeks before people enter an area where contagion is likely.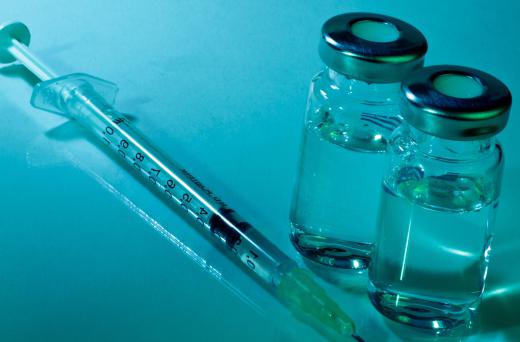 The other type of typhoid vaccine is an injection with a version of the germ that is dead. This makes contracting typhoid from the shot extremely unlikely. The injection has the advantage of safety when given to children of a younger age, though it is still not recommended for kids under the age of two. Immunity doesn't last as long and booster shots are recommended every two years. As with the pill form, the shot needs to be given at least two weeks prior to travel.
Either injection or oral pill can have a few side effects, though these are usually minimal. Each treatment may cause a fever that generally doesn't exceed 100 degrees F (37.78 degrees C). The injection may cause redness or soreness where it was administered.
Pills sometimes upset the stomach, and they can't be taken with antibiotics because the vaccine may not work. It is possible to have an allergic reaction to the typhoid vaccine, though is rare, and sometimes other complications like very high fever result. In this case, people should alert their physicians.
Some people question the necessity of getting a typhoid vaccine, but it can be quite difficult when traveling to fully avoid typhoid. People must verify that all food and drink has been prepared in a safe manner, which is usually impossible to do. Without the vaccine, it is still possible to cure typhoid with antibiotic treatments. Complications arise when people don't realize they have it, and the bacteria begins to damage the body. People are also contagious after antibiotic treatment and may need to take special precautions to prevent infecting others.
AS FEATURED ON:
AS FEATURED ON:

By: alexphoto71

The typhoid vaccine can help reduce the risk of contracting typhoid fever.

By: Ocskay Bence

Typhoid can be life-threatening, with symptoms that include high fever and severe headaches.

By: Jaimie Duplass

The typhoid vaccine commonly given to young children contains a version of the germ that is dead.

By: Gorilla

The typhoid vaccine given through an injection is safe when given to children of a young age.

By: Fernando Madeira

A typhoid vaccine may be beneficial to individuals who are planning to travel outside of the country.

By: nandyphotos

Vaccines are typically developed in pharmaceutical research labs.

By: JackF

A sore throat may accompany the rose-colored spots associated with typhoid fever.