A trauma nurse is a medical professional who specializes in emergency care. This type of nursing focuses on identifying serious problems in incoming trauma cases and on stabilizing those patients so that they can receive further medical treatment. There are a number of arenas in which a trauma nurse can work, and employment prospects in this field are generally very good, as these nurses are constantly in demand around the world.
One of the most common places for a trauma nurse to work is in an emergency room, processing incoming patients. Nurses can also work in critical care units, applying their specialized training to patients who may be prone to experiencing medical emergencies and various crises. They may also work for a transport company, keeping patients stable while they are moved by helicopter or bus to a new medical facility, and these nurses are also vital in battlefield medical care.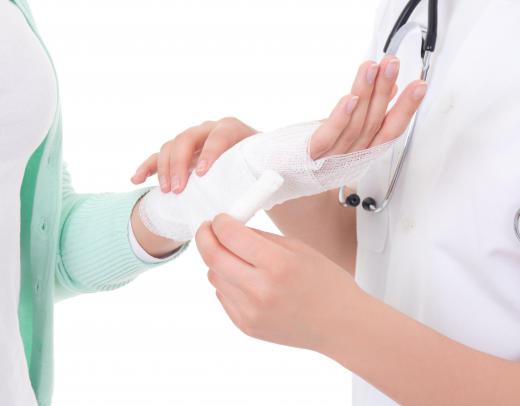 The key requirement for people in this field is the ability to work while under pressure. They may be required to cope with chaotic environments, stressful situations, and catastrophic trauma cases. These nurses must often contend with cultural and language barriers, and they must be able to coordinate with doctors, other nurses, and health care professionals who work together as a team to provide patient care. Trauma nursing can also have long and unpredictable hours, and it tends to put a lot of strain on the body, with a lot of prolonged standing, heavy lifting, and other sources of physical stress.
To work in this job, candidates usually get their nursing qualifications and try to focus on emergency care in their nursing training. Some pursue additional certification in trauma or emergency care so that they are more employable after graduation from nursing school. Many like to keep up their training with trade journals, periodic workshops, and memberships in professional organizations.
Work in this field can be very emotionally stressful. A trauma nurse may need to cope with very seriously injured patients along with their family members, and the ability to triage patients and injuries is critical. For example, when a patient who comes in with a seriously broken leg after a car accident, the more immediate concern might be the patient's airway, even if the leg looks awful. A good nurse can overlook the superficial appearance of the patient, and focus on keeping vital signs strong and stable so that a doctor will be able to provide the additional care required.
AS FEATURED ON:
AS FEATURED ON:

By: Diana Valujeva

A trauma nurse sees a variety of injuries and patients.

By: SeanPavonePhoto

Trauma nurses can be found in emergency rooms.

By: michaeljung

A trauma nurse may be responsible for monitoring a patient's vital signs while the patient awaits treatment.

By: Sanjay Deva

Some medical professionals pursue additional certification in trauma or emergency care, in order to be more employable after graduation.