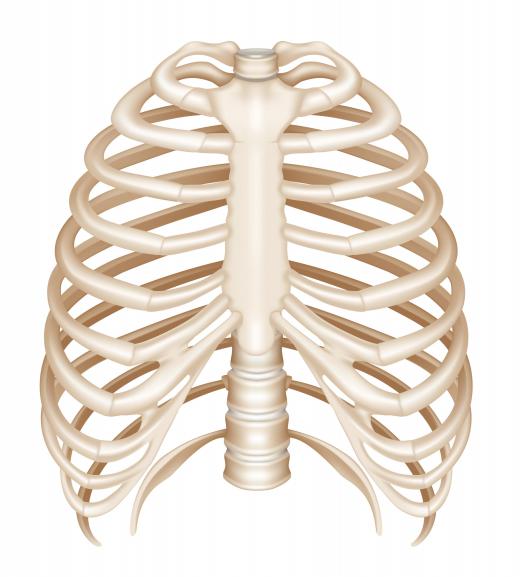 Thoracostomy is a surgical opening or incision in the thoracic cavity. The medical world is constantly advancing and evolving. At this time, there are three main procedures for thoracostomy: chest tube thoracostomy, needle thoracostomy, and expansion thoracostomy.
Chest tube thoracostomy is among the most common procedures. Patients usually refer to it as "putting in a chest tube" since it involves putting a hollow tube into the chest in order to drain air, blood, or fluid from the area around the lungs. Patients with pneumonia, cancer, or traumatic injuries can suffer from excess blood or fluid in the space surrounding the lungs. In other injuries, a lung can become punctured, causing air to surround the lung and leading to its collapse. The chest tube works in conjunction with a special machine by sucking out the air, fluid, or blood surrounding the lung.
Although the chest tube thoracostomy can help most patients and give them increased comfort, there are some risks. Among the least alarming is some pain during the placement of the tube. Usually, a local anesthetic is used, but there can be some discomfort during the insertion. Another minor risk is bleeding from a blood vessel during the tube's insertion. The most serious concern is infection, if bacteria are present on the tube.
In emergency medicine, a needle thoracostomy can be a life-saving procedure. It is most commonly used with patients who are deteriorating quickly with tension pneumothorax. A needle is inserted into specific spots in the chest; afterwards a chest tube is inserted to complete the drainage. There are complications that can arise, such as failure to stop the deterioration of the patient, bleeding, and infection, as mentioned above.
Lastly, expansion thoracostomy can be used in some cases. It is the insertion of a Vertical Expandable Prosthetic Titanium Rib (VEPTR™) that is used to treat conditions such as thoracic insufficiency syndrome. With thoracic insufficiency syndrome, the chest is unable to support the healthy, normal growth of the lungs or the spine. The VEPTR™ devices will make room in the chest cavity for the lungs or the spine to grow.
In the expansion thoracostomy procedure, separations are made to between the ribs to make the chest larger or if the ribs are congenitally joined, they are separated. Then, the VEPTR™ devices are used to make room for growth. The recovery period is long, but the procedure produces amazing results. For more information, consult a surgeon who specializes in the procedure.


By: Jaeeho

The rib cage surrounds the thoracic cavity. A thoracostomy is an incision in this cavity.

By: designua

Someone with pneumonia can suffer from excess fluid in the space surrounding the lungs.

By: sudok1

In most cases, a thoracostomy incision is closed with sutures when it is no longer needed.

By: snapgalleria

A chest tube thoracostomy may be performed if a lung collapses.