What is a Thermage® Face Lift?
A Thermage® face lift is a non-surgical alternative to a traditional face lift. This procedure is used to help a person get younger, tighter-looking skin without having surgery. Rather than a scalpel, Thermage® procedures use radio waves that can help to rejuvenate the skin not only on a person's face, but also on his abdomen, arms and legs, and rear end. Some people even have Thermage® techniques performed on their knees. When a person opts to undergo a Thermage® face lift, he can have his facial skin tightened and his wrinkles smoothed without worrying about incisions or long recovery times.
Often, doctors recommend a Thermage® face lift for people who want to look younger, but don't need a traditional face lift. Besides tightening the skin and smoothing wrinkles, this procedure can help to lift a person's eyebrows and make the cheekbones look more prominent. This procedure can also be used to firm up a person's jawline, and some people may even have it performed on their double chins. While this procedure may not get rid of double chins altogether, it can make them look better and less noticeable.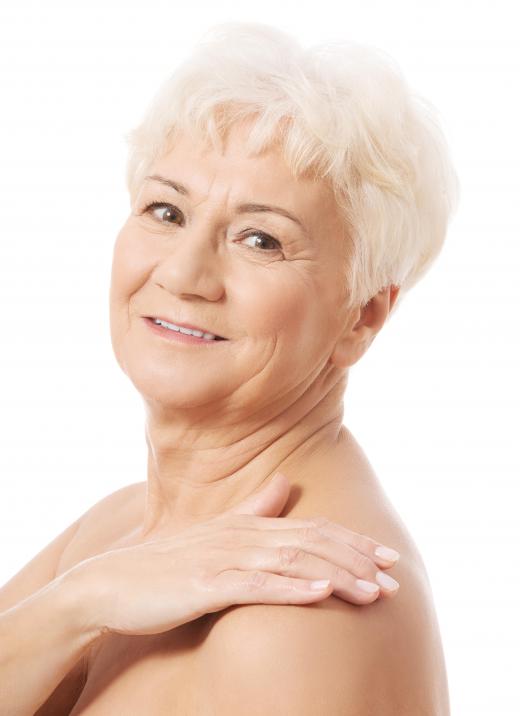 An individual usually only has to set aside a short period of time to have a Thermage® face lift. It is typically performed in a doctor's office and can be completed in an hour or less, in many cases. To perform this procedure, a doctor uses a radio frequency device to heat a protein called collagen in a person's face. This causes the collagen to contract, resulting in skin tightening, and also encourages the production of additional collagen, which is critical for younger-looking skin.
A person may enjoy noticeable results after having just one Thermage® face lift performed, though some may need additional procedures to see the desired results. Patients typically experience skin tightening while the procedure is performed and have progressive tightening for up to six months after having the procedure done. This effect is due to the fact that the heating of the deep layers of the skin activates the skin's healing process, which stimulates the creation of additional collagen.
The Thermage® face lift procedure is usually not painful, though some people report pinching sensations or uncomfortably intense heat. Often, doctors give patients oral painkillers before the procedure and apply an anesthetic to the skin to prevent discomfort. Most people tolerate the procedure well, but there are some rare side effects that are associated with this cosmetic procedure. They include such symptoms as swelling and redness, dimpling, and blisters. When these side effects do develop, they usually go away within a few weeks.
AS FEATURED ON:
AS FEATURED ON:

By: Piotr Marcinski

A Thermage face lift is used to help a person get younger, tighter-looking skin without having surgery.

By: Igor Mojzes

Facial swelling is a common side effect of a Thermage face lift.