When considering home improvement, the right tool for the right job is essential. One tool that many do-it-yourselfers don't often consider is a texture gun. This handy coating applicator is invaluable for quickly and inexpensively applying a textured finish to a wall or, especially, a ceiling.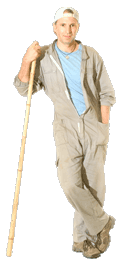 A textured finish will effectively hide imperfections in a surface as well as provide the bumpy surface found on most ceilings. The textured effect on the ceiling of a room is most often a matter acoustics as opposed to aesthetics. A textured ceiling will help cut down on echoing in the room.
A texture gun resembles an ordinary paint spray gun in that it consists of a hopper or container to hold the material to be sprayed, a pump and a nozzle to direct and regulate the thickness of the spray. For larger jobs, there are compressor equipped texture guns that use compressed air to force the texture paint from the hopper through the nozzle to the surface. Smaller jobs require only a self-contained texture gun with nozzle, hopper and hand pump.
In addition to applying regular textured ceiling paint, a texture gun can be used to spray drywall, glitter, waterproofing for foundations and acoustic finishing material. There are even models for exterior use which will give a building a stucco effect or provide the look of a cement facade.
Most texture paints are manufactured by adding an aggregate, usually vermiculite or polystyrene to ceiling or wall paint. This aggregate is of varying fluidity or thickness depending on its use. The nozzle of the texture gun contains an adjustable front plate with various sized openings. The holes are obviously larger than on a regular paint sprayer to allow for particle size and the thickness of the coating.
As with an ordinary paint sprayer, use of a texture gun is very simple. First, prepare the area to be sprayed, load the aggregate into the hopper, test the gun on a small area of the surface and adjust the nozzle as needed. To spray, stand some three to four feet (about 1 meter) from the surface and begin painting. It is always a good idea to occasionally agitate the aggregate while working to keep it fluid.
Do not neglect to clean all the components of the texture gun, or any type of spray gun, when the job is finished. Most paint and aggregates are designed to dry fairly quickly and it's very difficult to clean dried material from the nozzle of a texture gun.