A syphilis rash is a distinctive skin rash associated with the secondary stage of syphilis. If the patient is not treated, the rash will resolve on its own and the disease will enter the latent stage, exposing the patient to the risk of complications in the future. With treatment, the bacteria responsible for syphilis infection can be cleared from the body and the disease will not become latent. Syphilis treatment is available through general practitioners, as well as specialists like gynecologists and urologists, and generally involves taking a course of antibiotics.
People are infected with syphilis when they come into contact with syphilis ulcers, sites where active infection is occurring. Most cases are passed through sexual contact with ulcers around the genitals or mouth. Once someone is infected, the bacterial infection will form an ulcer in primary syphilis. The patient is contagious during this stage, until the ulcer heals up. Within weeks or months, a syphilis rash will develop.
This rash most commonly presents on the soles of the feet and the palms of the hands, although it can occur elsewhere on the body. It is rough and reddish to brown, and sometimes pustules develop along with the syphilis rash. This rash is usually not itchy, although it may feel uncomfortable and as it resolves, dead skin left behind may start to peel, flake, and itch.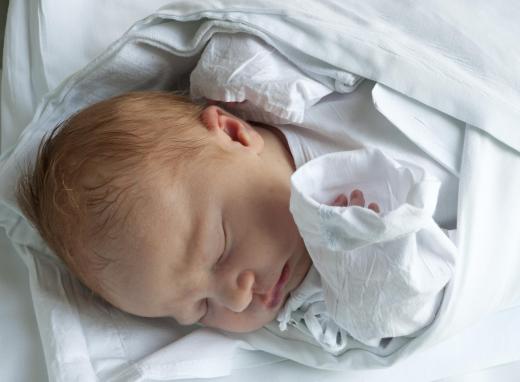 The syphilis rash can be contagious. While an active outbreak is occurring, it is important to avoid skin to skin contact, especially with people who have compromised immune systems. Sometimes, the syphilis rash is very faint, and it is possible for the diagnosis of syphilis to be missed, especially if the patient did not notice the ulcer during the primary stage. For this reason, it is important for sexually active people to be regularly tested for syphilis and other sexually transmitted infections.
After a course of antibiotics, the patient's body should be free of the spirochete bacteria that cause syphilis. Without antibiotics, the disease can progress to the latent stage, and eventually develop into tertiary syphilis, a very serious recurrence of the disease that may strike as long as 10 years after the initial infection. Tertiary syphilis can be a debilitating and dangerous disease, as the bacteria can spread throughout the body and cause widespread medical problems, including neurological problems if the bacteria manage to cross the blood-brain barrier and enter the brain and spinal cord.
AS FEATURED ON:
AS FEATURED ON:

By: Monkey Business

Syphilis during pregnancy can increase the risk of stillbirth.

By: jamdesign

Syphilis transmitted from mother to child during the birthing process can be fatal for the newborn.

By: jarun011

Syphilis, if untreated, can eventually cause heart damage, strokes, seizures and blindness.

By: Gina Sanders

Individuals infected with syphilis are not eligible to donate blood until one year after ending treatment.

By: Dmitriy Melnikov

A gynecologist can diagnose and help treat a syphilis rash.