What is a Surgical Suture?
A surgical suture is the material used to hold a wound or cut together until it heals. Suturing is the act of stitching or sewing the wound using suture materials such as thread or a surgical staple. The area that requires a suture may be the result of injuries or surgery, and the style of suture used depends on where in the body the surgical suture is needed. Some of the most common types of sutures include running sutures, barbed sutures, and mattress sutures.
A running surgical suture, which is also referred to as a continuous stitch suture, uses only one long strand of suture thread. The needle is run down through the edge of the tissue and up the other side. There is no break in the sutures and the physician stitches the entire wound closed with one thread. This type of surgical suture is most often used in areas of the body where the tissue is easily reached, such as along the shin or where scarring from other forms of suturing that use knots would be unsightly.
Barbed surgical sutures which are also known as interrupted stitch sutures, do not use one continuous thread. Instead, each stitch is tied closed with a knot. The surgeon inserts the needle down through the tissue and brings it up on the other side. The thread is clipped a few inches from the wound and the ends are then tied together in a knot. Since the scar will not be one continuous thin line but instead include small "dots" where each knot was, this type of surgical suture is used when the wound is short, small, or in an area that usually covered with clothing, such as the back.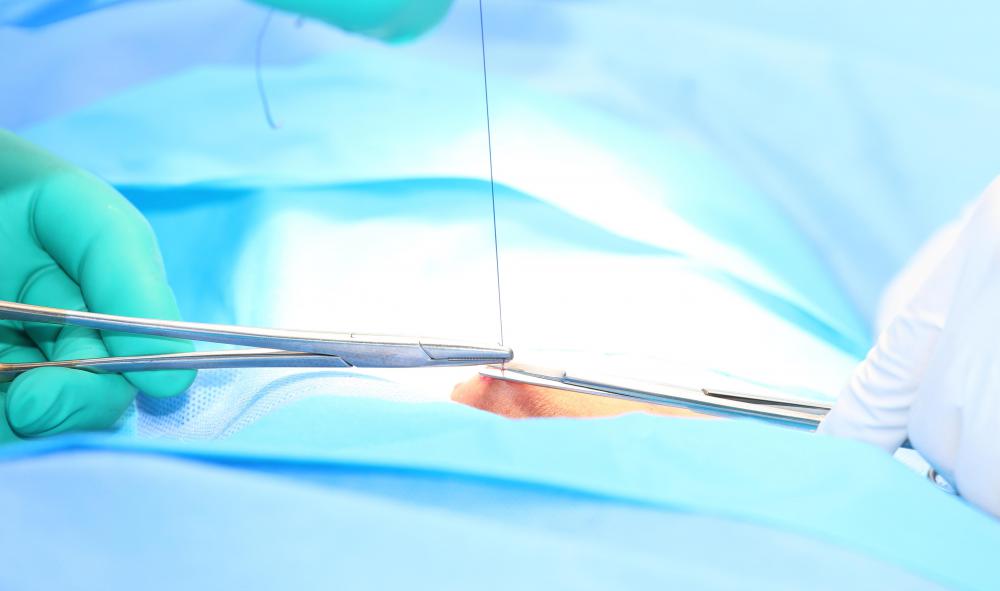 Mattress sutures are a combination of a running surgical suture and a barbed surgical suture. In a mattress suture, the needle is inserted down through the tissue and up the other side. In the running surgical suture, the needle would then have been run over the top of the wound and back down into the tissue but in the mattress suture the needle is inserted down through the tissue and back up the other side without ever having the thread sewn over the wound. When the thread is pulled up on the second pass under the wound, it is clipped and tied in a knot.
The result is the wound is pulled tightly closed deep inside the tissue, which is especially helpful for puncture type wounds that affect multiple layers of tissue. Once the sutures are tied into a knot, the top of the wound is typically held together with surgical staples and covered with steri strips. Surgical staples look similar to a normal office staple and are inserted using a staple clamp. Steri strips are small sterile strips of medical tape that are used to augment the staples.