What Is a String Trimmer?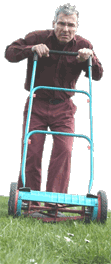 A string trimmer is a piece of gardening and landscaping equipment which is used to cut grass, weeds, and small shrubs. String trimmers are known by a variety of alternatives name including strimmer, weed whacker, weed eater, weed whip, or grass trimmer. These tools are commonly sold at gardening supply stores, and they can be very useful in gardens of all sizes. In a small garden, a string trimmer may in fact be preferable to a lawn mower.
The design of a string trimmer includes a string mounted to a rotating head and partially covered with a protective shield. When the device is turned on, the string rotates at very high speed, becoming extremely stiff, while the shield keeps the user's body away from the rapidly moving string. The stiff string can cut through a wide variety of materials. As it wears away, more string comes out of a spool, or the user can manually advance the string. Other varieties have clips which snap onto short strings, allowing people to change the string when it becomes too short or worn.
String trimmers are much easier to handle than lawn mowers, and they can be more suitable than mowers for close quarters tasks. They safely handle heavier materials, including tall grass which cannot be cut with a mower, and they work especially well over rough ground and in tight corners where a mower will not fit. String trimmers are also used as edgers along pathways, fences, and flower beds to create crisp, clean edges which will be visually attractive.
There are several different power sources available for string trimmers. Some run on an internal combustion engine. These tend to be the most powerful, although they are also noisy, and it is important to wear ear protection with them. Other models are electric, designed to be plugged into an extension cord. Electric models can also be cordless, with batteries which charge while the device is plugged in or placed in a cradle. Electric string trimmers are weaker, but less polluting and quieter.
When using a string trimmer, people should be aware that the string comes in different weights and designs. Heavier string is more suitable to heavy tasks. It is also important to watch out for the safety risk posed when the string wraps around a sturdy tree or shrub instead of cutting. It is a good idea to wear heavy pants and protective boots when using a string trimmer, to reduce the risk of injury from the string. The shield should also be properly maintained to avoid injuries.
Man mowing the grass