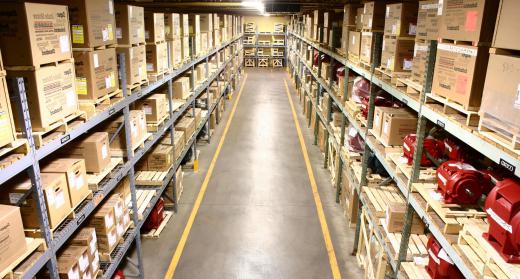 A stock clerk is in charge of equipment or merchandise offered for rent or sale to consumers. She may work for retail stores, warehouses or for any number of companies involved in shipping and distribution. She is normally required to keep track of all stock movement in and out of a stockroom or storage facility. Her efficient management of the company's inventory is crucial to its success in selling or renting its goods.
Exemplary organizational skills are important traits to be a successful stock clerk. She is regularly expected to verify that incoming shipments contain the correct merchandise and in the amounts ordered. As the products are distributed to different locations or departments, accurate tracking of the number of items removed from the stockroom and their destinations is essential. Without these stringent controls, inventory counts will be compromised and generally have adverse effects on the company's ability to fill orders and satisfy customers.
To keep the inventory at appropriate levels, a stock clerk usually has a reorder plateau for each item. If her system is highly automated, a reorder will automatically be generated when an item reaches a certain stock level. In manual systems, she is generally required to make written notes of what needs to be reordered and submit the requests to her sources at the end of each work day.
Besides keeping track of delivered and distributed merchandise, a stock clerk is generally required to monitor items returned to stock based on defects, missing parts or product recalls. These items traditionally require special documentation before they are returned to their appropriate manufacturers and distributors. Their movement typically requires adjustments to the general inventory records.
A stock clerk is sometimes required to tag incoming stock with pricing or coding labels before transferring it to the sales or rental area. She is frequently required to label shelves and bins to reflect their contents. Her clear and concise labeling is depended upon by other employees who may need to locate or track inventory in her absence.
Computerized inventory tracking systems, along with handheld scanners, are common tools utilized by a stock clerk. She can quickly spot delivery problems, inordinate stock shortages or overages or spikes or decreases in product demands through the efficient use of these tools. Sometimes these systems generate hard copy reports for review by other departments.
No formal education or training is required for this position. A high school diploma or equivalent is a normal requirement. Background in warehouse operations or inventory control is desirable. Knowledge of computerized systems and software are strongly preferred. Demonstrated skills in organizing and maintaining stock either manually or by computer are pluses for stock clerk job applicants.


By: Ken Pilon

Stock clerks can work inside a warehouse.

By: Eisenhans

A stock clerk is responsible for keeping track of a company's inventory.

By: Monkey Business

Stock clerks are often required to do near-constant heavy lifting.

By: Robert Kneschke

A stock clerk at a small business may also work on the sales floor, assisting customers and answering their questions.